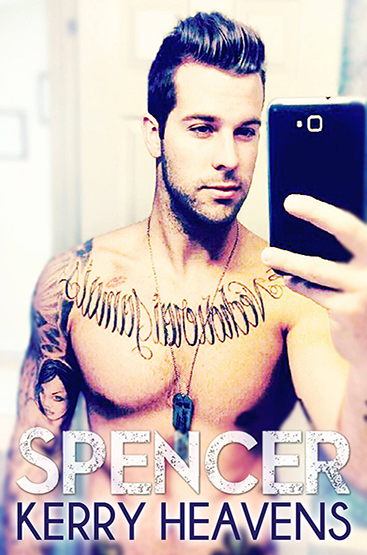 SPENCER
by Kerry Heavens
Series:
Not your average British romance #1
November 24, 2015
Amazon

@TheSpencerRyan exudes confidence,
I mean, have you seen him???
His dark good looks and tattooed muscled perfection are too much.
He's hot. Lickably hot.
And he has a way with words that leaves me breathless.
But cocky doesn't even cover it,
this guy is so arrogant you have to fight back.
But God he's so lickable!
The thing is though,
he looks like sex but he'll taste like jackass.
@OMGJazzyP is a sexy, annoying ball of rage in fuck-me heels
and she hates me.
Although her nipples would tend to disagree.
It's a deadly combination.
She's a princess.
And when I say princess, I mean intolerable, spoiled brat with a tiara.
Sure she's got that curvaceous goddess thing going on,
but that mouth of hers...
God it needs something in it to shut it up.
#GotJustTheThingRightHere
This is not your average British romance.
It's a tale of high heels, hot tattooed bad boys and
sex oranges, all wrapped up in a coating of chocolate.
It's 'love' in a social media world,
where not everyone is who they seem
and where some people's bios should carry a warning.
#JustSayin
EXCERPT
The sight and smell that greets me is just the same as it was yesterday. Bowls and utensils everywhere; and an incredible smell of chocolate and trays with neat lines of rolled truffles. Except today, I notice it. How did I miss all this crap yesterday, chocolate usually comes above everything!
Oh, but yesterday I was on a mission.
Drooling, I head around the counter and pick up a ball of chocolate from one of the trays, savouring it as the flavours explode in my mouth. Dark chocolate with some kind of boozy fruit flavour. God, it's good.
And she did this?
She's dangerous.
A woman who looks like her, thinks like her, wears those shoes, gives me shit and makes stuff like this, is a danger.
If I had a heart, I'd be falling in love.
I come to a big bowl of soft looking chocolate goo with a spatula sitting in it. I dip my finger in the gooey goodness and lift it to my mouth.
Holy hell! That is fucking amazing. It's ginger and dark chocolate with some alcohol. Damn. I want to put my face in the bowl. I glance around, then shrug. Lifting the spatula out, with a decent scoop, I lean against the counter and take a good long lick.
"What the hell do you think you're doing?" she barks as she comes into the kitchen.
"Just having a taste, Princess," I reply, turning to let her see me take another lick.
She storms over, trying to grab the spatula out of my hand. Good luck with that sweetheart, this is me and chocolate. You ain't getting it back.
"You can't just wander in here whenever you feel like it."
"The door was open."
"Give that back!" she demands, catching hold of it. For a second we both pull at it, but then I see an opportunity and let go. Chocolate splatters her face, neck and chest and stops her dead in her tracks.
I choke on a laugh.
She looks at me, mouth open, "You did that on purpose!"
I shrug.
She glances down at the mess on her chest and my eyes follow, locking in on her begging nipples, visible through her dress. She looks embarrassed.
"It's ok, Princess, I know they like me even if you don't. Happens whenever I'm around."
"It does not!"
"Mmmm-ok."
I step closer. She backs off, but I catch her arm and pull her close.
"What are you doing?" she gasps.
"I don't waste chocolate," I reply softly and then lean in and swipe my tongue over her temple.
She wriggles, but it's a weak effort. "Get off me," she demands.
"Hold still, Princess, it's all over you." I take another lick at her cheek and move down to her neck.
"Ok, that's enough," she snaps, her breath catching in her throat as I suck in her earlobe.
I lick her neck just below her ear even though there's no chocolate there and the way her head falls slightly back in surrender makes me swallow hard. "It's never enough," I murmur.
What the fuck?
I shake the sappy shit out of my head before I grow a vagina, and pluck the spatula out of her hand, painting a trail down her cleavage. Dropping the spatula on the floor, I grab her by the arse and lift her so that I can lick it all off. She yelps and struggles and I plonk her down on the kitchen counter, leaning forward and feasting on the stripe I painted between her breasts. Her dress is ruined, shame, I quite liked it.
K'S REVIEW
Ever met someone you thought was perfect until they opened their mouth?  Ever wished you might be able to interact with them in a more perfect world, an alternate universe, for instance, where their personality didn't ruin the package?  Welcome to Twitter, where no one is who they seem to be, or pretend to be, or really are.  If you want to live a fantasy, come on in!  And while you're here, meet @OMGJazzyP, and of course, @TheSpencerRyan.
There are a million reasons why I loved this book: the characters, the wit, the pacing, the awesome smut, and the peek into the world of my beloved Twitter universe.  It's not all faves and retweets, tweeps!  In the wonderful world of Twitter, you can be anyone you want to be, and no one is the wiser (most of the time).  But what happens when you follow you're RL crush into the Twitterverse?
Jazz Parker was minding her own business one day, innocently perusing some sandwiches during her lunch break, when sex in a suit stepped up beside her, enveloped her in a cloud of delicious man smell, and introduced her to what will forever be known as "The Spencer Zone."  In The Spencer Zone, one's RL personality doesn't matter.  According to Jazz, "This is the zone where nothing makes sense."  But it comes with great sex, so who's complaining, right?  Not quite.  In the immortal words of INXS, "two worlds collided," and now Jazz will never be able to fully tear them apart.  RL meet the dream.  Dream, prepare to be crushed.
On Twitter, @TheSpencerRyan is a self-absorbed hottie who posts constant selfies and basks in the adoration of his female followers (who grow in number by the hour, I'm guessing).  He enjoys the distraction of his DM hookups, and when he's bored, he's done–and he gets bored quickly.  If you're looking for love, keep looking.  Spencer likes to keep his options wide open, and he has plenty of options.  He's funny and charming, and he keeps his followers (and himself) easily entertained.  He is all of these things in RL too, just amplified; and he has no boundaries; and he thinks he's God's gift to womankind; and he's handsy in the worst way; and…the list goes on.  He's somewhat unbearable (but trust me when I say that there is more.  It's just buried kind of deep).
Then there's @OMGJazzyP.  Jazz is more or less the same girl on TL that she is in RL (minus a face; on Twitter she is faceless and anonymous, flying under the radar), unless she hates you.  In RL, if she hates you, the easy, witty banter is gone, and her tongue can cut.  Check out her Twitter profile and TL, and you'll see that she has a penchant for sexy shoes and doesn't branch too far outside of her inner circle.  She's clearly not interested in amassing legions of minions.  She's a bit of a mystery, but one with just enough information to lead to some intriguing conclusions.  Just ask @TheSpencerRyan.  Those shoes she's always posting have led his imagination down some very sexy side streets, and he's looking to explore their dark alleys.
In RL, Jazz is a kitchen designer being not-so-subtly pursued by her pervy boss and dreaming of two things: owning her own chocolate shop and the hot guy at the sandwich shop, who just happens to be none other than Spencer Ryan.  Spencer Ryan and @TheSpencerRyan have a lot in common, it's just that when confronted with the living, breathing man, Jazz finds that he's even hotter, smells better than she remembered, and his online confidence and charm morph into a brand of asshole she can't tolerate.  As she puts it in one of my favorite lines of the book, "He looks like sex, but he'll taste like jackass!"  And yet, she's not quite ready for the dream to die, and Spencer…he can't get @OMGJazzyP out of his head or stay far enough away from the spoiled rotten, princess who hates him.
When these two characters enter the same space, virtual or otherwise, there are not just sparks, there are sparkles, because as much as they claim to hate each other, they're pretty freaking magical.  You will laugh out loud at the things the say to each other and the situations they manage to get themselves into (think chocolate-covered, secret sexcapades and the sex orange–my all-time favorite prop).  From The Spencer Zone to the sex orange to the tuna/"Psycho Cinderella," I couldn't stop giggling.  This was the most fun I've had reading a book in a really long time.  Where has Spencer been all my life?!
There's a small cast of supporting characters, namely Jazz's best friend, Mags (@Magspie1), and Spencer's cousin, Will.  Mags and Jazz have such great chemistry–they will remind you of your very best friend (or make you wish you had a best friend just like Mags), and Will is probably the only person in the world able to tell it to Spencer like it is and get away with it.  Add in Mags' and Will's personal history together and the way they gossip about Jazz and Spencer like teenage girls, and you've got, not just supporting characters that work to move the story forward, but that you can't wait to hear more from (btw, a little bird told me that more is to come for these two, so keep your eyes peeled!).
I couldn't put this book down.  It made the happy endorphins flow, sure, but the pacing was right on.  Fast enough to keep you wanting more, slow enough to have you begging by the time Ms. Heavens delivers your reward.  Go ahead, call her Master.  She will have you panting and begging.  Don't worry–you're in good company.  Jazz is familiar with panting and begging for more (just ask Spencer).  I gave my Kindle quite a workout reading this book, what with marking pages, highlighting my favorite passages and the re-reads, but Ms. Heavens' serious sexy-writing skills were what really made the pages smoke.  Trust me: You'll be adding sex-kitten shoes, chocolates and oranges to your shopping list.
Even more tender (maybe) than the ending (no cliffy here, ladies!) are the nods to
Just Human
and
Still Human
, Ms. Heavens' previous books.  Danny and Liv have permanent places in my heart, so seeing even a glimpse of them in this world brought big smiles.  If you haven't One-Clicked
Spencer
yet, you're missing out on one of the funniest, sexiest and (somehow) sweetest stories ever to find its way from TL to RL.  Get to clicking, ladies!