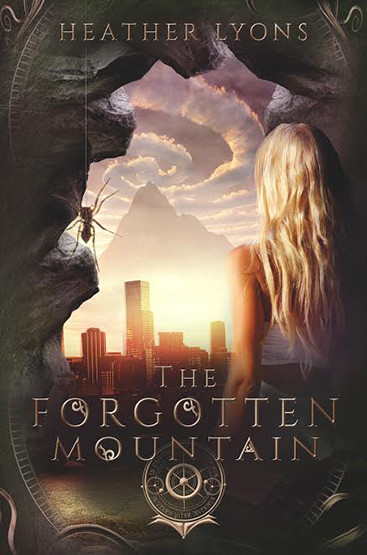 The Forgotten Mountain
by Heather Lyons
Series:
The Collectors' Society #3
June 23, 2015
Amazon
| 
Kobo
| 
iTunes
| 
B&N

After years spent in Wonderland, Alice Reeve learned the impossible was quite possible after all. She thought she left such fantastical realities behind when she finally returned to England.
Now Alice has become a member of the clandestine Collectors' Society, and the impossible has found her again in the form of an elusive villain set on erasing entire worlds. As she and the rest of the Society race to bring this mysterious murderer to justice, the fight becomes painfully personal.
Lives are being lost. Loved ones are shattered or irrevocably altered. Each step closer Alice gets to the shadowy man she hunts, the more secrets she unravels, only to reveal chilling truths. If she wants to win this war and save millions of lives, Alice must once more embrace the impossible and make the unimaginable, imaginable.
Sometimes, the rabbit hole leads to terrifying places.
* This is the third book in the adult romance/fairy tale Collectors' Society series.
EXCERPT
Dense forests with trees like skeletons loom all around us, and with the piles of snow littering the ground, it appears as if silence has swallowed the countryside whole. At the top of the drive sits a large, foreboding gothic building partially covered in ivy, complete with a pair of peaked towers on either side of the entrance.
As we pull up, the A.D. exclaims from the backseat, "How much do you want to bet that place is haunted?"
I'm afraid I must concur with his assessment. If there ever were to be a building home to spirits, this would be it.
"I'm still not sure this is the wisest course of action," I say to Van Brunt.
The Society's leader parks next to a lone rusted red truck. "Schematics of the region show very little covert accessibility." His smile is faint. "Hiking several miles in the snow when a storm is coming in is just not a feasible option right now. We'll start with the Headmistress and go from there."
I grudgingly must admit I am no fan of trudging through snowstorms. Nonetheless, the idea of going back up in a helicopter in such conditions leaves me even more unsettled, as flying through the air is still foreign to me.
The A.D. leans forward, clapping a hand on Van Brunt's shoulder. "I never thought I'd see this day, boss man. Abraham Van Brunt, without a proper plan?" A low whistle fills the car.
Van Brunt chooses to ignore this by exiting into the cold air, instead.