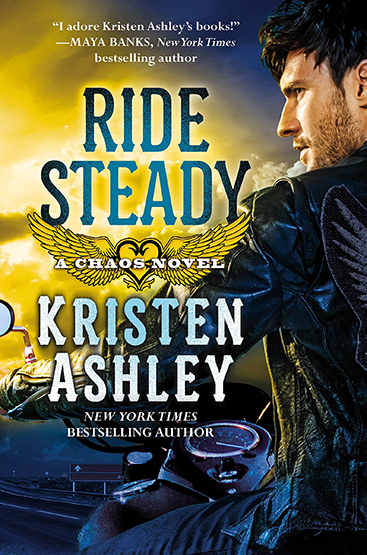 Ride Steady
by Kristen Ashley
Series:
Chaos #3
Amazon
| 
Kobo
| 
iTunes
| 
B&N
| 
Audible

 The ride of her life . . .
Once upon a time, Carissa Teodoro believed in happy endings. Money, marriage, motherhood: everything came easy---until she woke up to the ugly truth about her Prince Charming. Now a struggling, single mom and stranded by a flat tire, Carissa's pondering her mistakes when a vaguely familiar knight rides to her rescue on a ton of horsepower.
Climb on and hold tight . . .
In high school, Carson Steele was a bad boy loner who put Carissa on a pedestal where she stayed far beyond his reach. Today, he's the hard-bodied biker known only as Joker, and from the way Carissa's acting, it's clear she's falling fast. While catching her is irresistible, knowing what to do with her is a different story. A good girl like Carissa is the least likely fit with the Chaos Motorcycle Club. Too bad holding back is so damned hard. Now, as Joker's secrets are revealed and an outside threat endangers the club, Joker must decide whether to ride steady with Carissa---or ride away forever . . .
K'S REVIEW
If you've read any of the books in the
Chaos
series by Kristen Ashley, you're probably already as enamored of each of the characters as I am.  I mean, Tack is the super-cool king of the badass bikers, Hop is a hottie on wheels that will make you wonder why you've never followed a biker home on the highway, and Shy is so delicious he will seriously make you contemplate becoming your nearest MC's newest sweet butt.  And best of all: They may be badass bikers but they manage to reach levels of sweetness that I only dreamed about watching SOA for seven seasons.  I could never be an old lady in the Sons of Anarchy MC world, but sign me up for Chaos!
The men of Chaos are all about brotherhood, Harleys and family.  They will mess you up if they have to, but they prefer to live quiet and straight—peaceful.  Give them some happy old ladies they can spoil, healthy kids and a few hog roasts and they are good to go!  Cross them or disrespect them, and you'd better start running.  The first two books (as well as Tack's book, Motorcycle Man, which is part of the Dream Man series) focused on members that had put some time in already with the club.  They were established members with history.  In Ride Steady, we meet a brother who's just finished his time as a recruit and become a full brother.  We meet Joker, and I must admit, I wasn't all that excited to meet him.  We are introduced to Joker in Fire Inside (the second book in the Chaos series), as a young recruit who never smiles (hence the ironic nickname), and honestly, he didn't appeal much to me.  I have since seen the light (and heard the motorcycles); Joker is way more than just appealing.
Now, I know that every time I read a Kristen Ashley book, I swear devotion to the male lead—and with good reason!  KA's men are amazing!  This time, though, I'm really serious:  Joker (aka Carson Steele) is my man.  I'd fight for him Gemma Teller style.  For reals.
Here's what we know about Carson Steele when this book begins:  His dad is an alcoholic a*#hole who beats him.  His mother left when he was just a baby.  He's holding on by a thread and trying to make it to his 18th birthday so he can legally get out.  He's smart and artistic.  He has neighbors who look out for him and realize the amazing person that he already is.  He has a great history teacher who sees the potential in him and wants to help.  He longs to belong to a family, to have people who care, so he stands outside the fence at Ride (automotive store run by the Chaos MC) and watches the brothers, (especially Tack and his son, Rush).  He's learning about sex pretty fast since all the girls have the hots for him, but he only has eyes for Carissa Teodoro, head cheerleader and girlfriend of the quarterback, and in his eyes, completely out of his league.  But is she?
Here's what we know about Carissa Teodoro: She lost her little sister in a really awful accident when she was very young.  Her mother is in the hospital battling cancer.  Her friends aren't really friends, but they are really bitchy.  She's dating the quarterback of the football team, but she can't keep her mind off of Carson Steele.  She's smart and sweet, and somehow maintains this beautifully sunny disposition.  What we learn a little later: Life has given her a string of hits, but she is loyal, devoted, strong, brave, feisty and not afraid to go get what she wants even if she has to jump the bones of a badass biker.  Twice.
These characters are a bit younger than your average KA pairs, and the problems and issues they deal with require wisdom, patience and love that usually only come a bit later in life; but after all these two have seen and experienced, everything rings true.  Joker and Carissa have my heart for a multitude of reasons, but mostly because they are so aware of what they have and neither of them is willing to mess it up.  They know dark and scary; they know lonely and sad.  Now that they both have a shot at what they really want and all of the joy that it brings, they're both wise enough not just to hold onto it, but to be deeply grateful for it—and that still has a hold on me.  I read this book like I read all of Kristen Ashley's books, which is to say that I devoured it.  When I finished it, I turned back to page one and read it again.  I loved the romance and the seriously hot sex, but what I went back for the second time around was the deep awareness and gratitude these two characters have for everything good in their lives.  They know how easily life can turn, and so they hold on tight to all of the good and they work hard to make it even better.  Add to this the outpouring of kindness and love from the larger Chaos family, and I think this may be the greatest love story Kristen Ashley has written to date—and that's saying something!
Maybe it's just me.  Maybe the rest of you are just looking for an escape and some great sexy times.  Don't worry, you'll find that here, but you'll also find a core of something so sweet and precious, a community of compassion and goodness, family loyalty and love shown through words, but more through action, that it will warm you long after you've turned the last page.