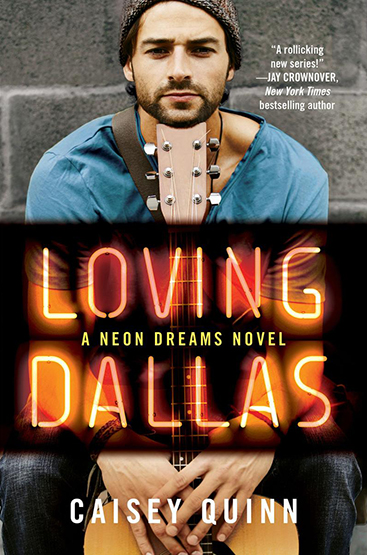 Loving Dallas
by Caisey Quinn
Series:
Neon Dreams #2
Amazon
| 
Kobo
| 
iTunes
| 
B&N

In the second novel in bestselling author Caisey Quinn's Neon Dreams series, a country rock band and its members embark on the rocky road to fame and find love along the way.
Every dream comes with a price…
Dallas
Sacrifice.
I'm familiar with it.
I've had to leave behind everyone I cared about—my sister, my best friend, my band, and my high school sweetheart—in order to chase my dream of making it in Nashville.
But when Robyn Breeland walks back into my life, it's as if the universe has decided to give me a second chance.  I'm just not sure it's one I'm willing to take.
Robyn
Heartbreak.
I practically majored in it.
Dallas Lark was the first boy I ever loved and the one who'd shattered my heart into pieces.  But I've moved on. Working in promotions at Midnight Bay Bourbon, I'm too busy to sit around moping over my ex. But when my company decides to sponsor his tour, I'll have to face him whether I'm ready to or not. Dallas is determined to drive me to distraction, and my body begs me to let him.
Trouble is, my heart can't tell the difference between a second chance and making the same mistake twice.
I received this book for free from in exchange for an honest review. This does not affect my opinion of the book or the content of my review.
EXCERPT
"Tell me what you've sacrificed. I want to know," Dallas says evenly, completely unfazed by my obvious psychotic break. "Because I know a thing or two about sacrifice myself. But I can tell you this much, I would never sacrifice my dignity and I sure as hell didn't get where I am on my back or by putting anyone else on theirs."
What the hell?
"Excuse me?"
"Mandy. She's my manager. Our relationship is strictly professional, and it will stay that way, regardless of what her intentions may or may not be."
"Okay." I don't want to feel relieved. I shouldn't care. But my tightly wound nerves loosen a fraction.
"Your turn," he informs me, folding his muscular arms over his broad chest.
"My turn for what?"
"To tell me if you're fucking Wade! If that's how you got on this tour, I want you to end it. He's a grade A piece of shit who doesn't give a damn who he—"
Dallas doesn't get to finish his sentence.
Because I slap him. Hard. So hard my hand is still stinging.
Our faces must be matching masks of shock and I see the replay in slow motion. I've never struck another human being in my entire life. And I just slapped the only man I've ever loved with everything I was worth.
"If you ever, ever, even think to insinuate that I got where I am on my back, I swear to God, Dallas Lark, I will make that seem like a love tap."
I am so immensely infuriated that everything in my line of sight is tinged in red. But more than that, I'm hurt. Hurt that someone I once cared so much for, and still care about more than I'd like to admit, would think that of me. Stitched-up lacerations on my heart that were on their way to being pretty pink scars are opening wide and angry. He didn't invite me here for pancakes to catch up or spend time with me or figure out how to work together or even attempt to make amends. Nope. He's just jealous and arrogant and a raging asshole.
"I didn't mean to insinuate that—"
"Get the hell away from me." I whirl around and step right into a fresh puddle. Great. Wonderful.
"No," Dallas says, pulling me toward him and catching me off guard. "I need you to hear me out."
"What's to hear? You're an arrogant ass and I hate you."
He gives me an infuriating smirk. "No you don't. If that were true, you wouldn't be this pissed."
I struggle to find a reasonable argument to this so I say, "Fuck you, Dallas."
"Yes, please. Come back to the hotel with me. The car service is already here." I yank out of his grasp, causing a painful friction between our skin.
"Ouch."
He pulls me to his chest and my anger is fading, too diluted by his scent and his intensity.
"I'm sorry, baby. I'm so damn sorry," is all he says before kissing me brutally on the mouth. Mine pops open in shock when he pulls back to breathe. His gaze presses into mine as my mind tumbles over itself trying to process the abrupt turn of events. His thumb grazes my cheek gently. "I never meant to hurt you," he says before devouring me again.
And Lord help me, I don't even know which thing he's apologizing for—the past or the present—because I'm melting. The rain, his fiery hot mouth, his hands scorching a trail over my body. I'm drowning in Dallas and I can't stop.
Worse, I don't even want to.
K'S REVIEW
No one does a downhome hero like Caisey Quinn. When I met Dallas in Leaving Amarillo, I liked him, but mostly I felt sorry for him because he was trying so hard to get his band where it needed (and he wanted) it to go, but getting Gavin and Dixie on the same page was like herding cats.  I felt like someone needed to give Dallas a whip and maybe a vacation.  When I found out that the second book in the series was all about Dallas, I was excited.  The Dallas we meet in Leaving Amarillo is a bit one-sided; he's totally focused on his career and being an over-bearing big brother to his fiddle-playing sister, Dixie.  I was looking forward to seeing Dallas rise from the page and flesh out even more—and in Loving Dallas, he gets his chance.
Loving Dallas starts off very close to where Leaving Amarillo ended.  Dixie is off on her road trip, Gavin is in the wind, and Dallas is on tour as a solo act.  He's tired, a bit world weary, but excited that his dream is really coming true.  When he gets the news that he's been asked to join Jace Wade's tour, he knows he's rising fast; but when he shows up for the first event, he sees that he'll be touring with none other than Robin Breeland, his first love who dumped him right before he turned 21.  When all of the old feelings come rushing back and they both fall into familiar, flirty banter, where does he go from there?  See, Robin was Dallas's first love, way back when he was Dallas Lark, not Dallas Walker, country music's newest rising star.  The summer before Dallas turned 21, she had mapped out and planned a 6-week tour for Leaving Amarillo, Dallas, Dixie and Gavin's band, complete with mix tapes for the road; then suddenly, she said she couldn't go and broke things off with Dallas.  And after a bit of broken-hearted groveling, Dallas let her go—but he never forgot about her (he did, however, hold onto enough anger and hurt pride that he was pretty cold and nasty to her when he saw her again, namely at his grandfather's funeral).  So, why does he still want her after all this time and heartache?  And why does he seem to be falling down that same rabbit hole with her?
Then, there's Robin: hard-working, over-achieving, take-care-of-everyone-but-herself Robin.  She's working her little Texan tush off for a company called Midnight Bay Bourbon, and she's rising fast.  She's just been put in charge of a Midnight Bay campaign associated with Jace Wade's tour, when lo and behold!  Who's pretty face pops up on the new promo materials but Dallas Lark, aka Dallas Walker!  She's as thrown as Dallas and just as lost once she sees him again.  How are the two of them supposed to work together without destroying both of their careers?
That's where it gets interesting! You can feel the pages start to steam as soon as these two lay eyes on each other, and you know, as a good and faithful reader, that it's not going to take much to tip the balance in the favor of fire.  You don't have to wait long; and their surrender is your reward.  Robin and Dallas have chemistry to spare, so get ready for the flames!
What I loved most about this book is the pull of dreams, and the realization that one dream doesn't have to preclude another; and moreover, dreams can overlap, merge, morph and evolve.  That concept is a long time coming for both Robin and Dallas.  While, they both seem hell-bent on embracing only their own ideas of what can work, it's Dallas that has to decide just who he wants to be—Dallas Lark or Dallas Walker.  Luckily, they have an unlikely Yoda in Jace Wade (though I didn't see that coming!).
Jace Wade is a big, huge country star.  He's got the fancy tour bus, women galore, he's headlining a major tour, and he seems over-the-moon happy.  But looks can be deceiving.  When Jace has a little heart-to-heart with, first, Robin, and then Dallas, I was hopeful that things would start to fall into place.  All I can say is, these two need time to let things percolate.:)
The effortless way Dallas and Robin interact is a joy to read and had me rooting for them to the last page.  This is not the Dallas you thought you knew in Leaving Amarillo.  This Dallas is 3-D, full-fleshed and breathing.  This Dallas had me questioning, as so many of Caisey Quinn's books do, why I don't listen to more country music.  If anyone could turn me, it's CQ.  The cocky, Southern boy never looked so good before!  Do yourself a favor and read this book!
P.S. There were just enough Dixie and Gavin teasers sprinkled throughout this story that I'm damn-near salivating for the next book in this series!  Bring on Gavin, Caisey Quinn!