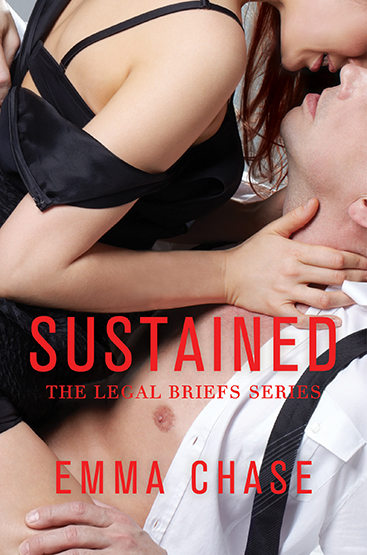 Sustained
by Emma Chase
Series:
The Legal Briefs #2
Amazon
| 
Kobo
| 
iTunes
| 
B&N

A knight in tarnished armor is still a knight.
When you're a defense attorney in Washington, DC, you see firsthand how hard life can be, and that sometimes the only way to survive is to be harder. I, Jake Becker, have a reputation for being cold, callous, and intimidating—and that suits me just fine. In fact, it's necessary when I'm breaking down a witness on the stand.
Complications don't work for me—I'm a "need-to-know" type of man. If you're my client, tell me the basic facts. If you're my date, stick to what will turn you on. I'm not a therapist or Prince Charming—and I don't pretend to be.
Then Chelsea McQuaid and her six orphaned nieces and nephews came along and complicated the ever-loving hell out of my life. Now I'm going to Mommy and Me classes, One Direction concerts, the emergency room, and arguing cases in the principal's office.
Chelsea's too sweet, too innocent, and too gorgeous for her own good. She tries to be tough, but she's not. She needs someone to help her, defend her…and the kids.
And that—that, I know how to do.
DANA'S REVIEW
I have been a loyal Emma Chase fangirl since she gave me Drew Evans in Tangled. I looooooooooved Drew from the moment I met him. With the flu. On his couch. Poor loveable bastard. There is just something about Drew that I can't quit. I have read every book Emma has written and every time I finish an Emma book, Drew has remained at the very top of my Emma-Why can't these men be real?-List. Until now. Gulp. I can't believe I just typed that. I feel that in some way I am being disloyal to Drew. BUT…in my defense, Drew is happily married to Kate now so I am pretty sure he'd be okay with this. Okay, that's not really Drew's style but let's move on, shall we?
Jake Becker is THE ONE. He's the one you want to find in your dream at night. He's the once in a lifetime, I can't believe you could possibly exist because you are so perfect, why can't you just be real so I can marry you, kind of perfect. I LOVE JAKE BECKER. Write it down, good people. Jake Becker is a name you want to know. You must add Sustained to your TBR list. No matter how crowded your Kindle gets, one-click Sustained and put it at the tippy top of your TBR list.
There is so much I love about this book. I love Jake. And Chelsea. And Jake and Chelsea's story. And all of Chelsea's nieces and nephews! We thought Emma wrote children well when she gave us Drew's niece in Tangled. Oh man, it just gets better and better in Sustained. What I particularly love about Sustained is that Emma makes us fall in love with all of the characters—not just Jake and Chelsea. Every character that walks into the room makes you want to know more about them. Emma is that good.
Sustained will make you laugh (a lot and probably out loud), cry, swoon, and want MORE. And by more, I mean: More Emma!!!!! I don't know how she does it. Is she this hysterical in real life? Inquiring minds want to know. The simple truth is that Jake could take down any book boyfriend in any book boyfriend contest—he's THAT good. I mean, he overtook Drew at the top of my Emma Men list…that is no small accomplishment. So…the moral of the story is this: Buy Sustained!!! Read it!!! LOVE it!!! And then…here's the extra important part: Lobby Emma (via Twitter, FB, IG, email, whatever it takes) to never stop writing. Ever. Sustained is complete and total perfection. True story!