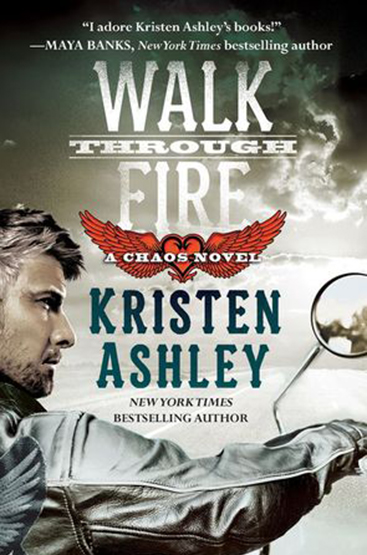 Walk Through Fire
by Kristen Ashley
Series:
Chaos #4
October 27, 2015
Amazon
| 
Kobo
| 
iTunes
| 
B&N

The flame never dies . . .
Millie Cross knows what it's like to burn for someone. She was young and wild and he was fierce and even wilder-a Chaos biker who made her heart pound. They fell in love at first sight and life was good, until she learned she couldn't be the woman he needed and made it so he had no choice but to walk away. Twenty years later, Millie's chance run-in with her old flame sparks a desire she just can't ignore. And this time, she won't let him ride off . . .
Bad boy Logan "High" Judd has seen his share of troubles with the law. Yet it was a beautiful woman who broke him. After ending a loveless marriage, High is shocked when his true love walks back into his life. Millie is still gorgeous, but she's just a ghost of her former self. High's intrigued at the change, but her betrayal cut him deep-and he doesn't want to get burned again. As High sinks into meting out vengeance for Millie's betrayal, he'll break all over again when he realizes just how Millie walked through fire for her man . .
K'S REVIEW
If this book doesn't break your heart, you don't have one. You know that old cliché about "pulling at the heart strings"? Heart strings exist! I know they do because, reading this book, I could swear I felt the individual striations of my heart muscle pulled until they pinged like guitar strings. Sad, mournful, broken notes were plucked right from my heart. This is the kind of love that makes music. For reals. And if Millie Cross and Logan "High" Judd don't make you reach for your iPod for musical comfort, no one will (may I suggest Vance Joy's "Winds of Change" for this particular story?). Ever. Because you have no soul. Do you get what I'm saying yet?
I'm saying you need to read this book. Every angry/hate f**k, every nasty word meant to twist the knife, every word held back in absolute fear of getting more than hurt, of getting decimated—again—needs to be read. You need to go through it, so that you can fill your lungs up by the end in gratitude, in hope, in love. All the feels, girls. All the feels.
We meet Millie Cross when she enters a Chipotle and gets her world rocked. I knew I liked Millie as soon as she mentioned Chipotle, but she just continued to get better. Twenty years before the fateful Chipotle spotting, Millie Cross and Logan Judd were in love–a love-at-first-sight kind of love; the kind of love that doesn't die no matter how many times you stab it right in the heart—and they were happy. Honestly, they were the stuff of biker and biker-princess dreams, until one day Millie ended it. Out of the blue, she said some things she knew would make Logan walk away and not come back, then she commenced building a visually stunning life of no meaning or substance. She never married or had kids or even dated. She built a very successful business, and renovated a house until it was absolutely perfect. In fact, her life had a beautiful face on it. So, who would've guessed how flimsy the façade was? Millie was living on takeout and work. She was active in her sister's life and with her niece and nephew, a few close friends, but once Logan was gone, all the love for life she'd once had was smoked right out of her. When she spots Logan in that Chipotle line yacking on the phone about his children and divorce, her fragile snow-globe world is rocked, and all the old feels fall down in a blizzard of confusion, until she decides it's time to see Logan again and explain.
You can imagine how things might go from here, right? If you've ever had your heart broken in a way that you know it will never really heal, you can imagine how Logan might take the sudden reemergence of Millie in his life. Poor, bleeding biker man. To be honest, I had a difficult time connecting with Logan in the beginning. That man can cut to the bone with his words, and there were times he plucked away at my heart until I had to look away from the page. I couldn't stand to witness the rawness of emotion in both he and Millie. Maybe I recognized some things there that magnified what was happening on the page for me, but, dear readers, I say to you, sit down and hold on. I rushed to Millie's side in my mind and I have to admit, I mostly stayed there. But those two kept me on a seesaw. Even though I'd get mad at Logan when he'd say something unimaginably rude and hurtful to Millie, he'd pull out a line like this and have me rushing to his side (I feel Millie's pain. Who could stay away from this guy?): "Just to have it back even if it was a lie. Hell, he could talk himself into taking the pain, twenty more years of it, just so he could have it back. Even if it was only for a day." Cue my heart walking off a cliff.
There's a secret Millie won't speak to anyone about why she left Logan, and I guessed it before it came out; and though I understood Logan's pain and anger, I still felt very protective of Millie. But here's the thing: "Whatever ended Logan "High" Judd's and Millie Cross's love affair was not a play or a betrayal. It was a tragedy," says our narrator, and tragedy does things to people. As a friend once said to me, "Where there's that much anger, there must have been a lot of love." Hold onto that to get you through because it's true. You'll make it, friends, with some cuts and scrapes to your tender heart, and when you do, you'll be glad you held on.
After Millie left him, Logan's life took a turn. He took more risks, married a woman he didn't love but had two girls that he did. He got some of what he wanted but not with the person he wanted it with most, and the half of a life he lived made me want to hug him. Like, constantly. The way I want to hug Eminem and make it all better…but I digress. I didn't want to love Logan "High" Judd before I ever read the book. He'd never really appealed to me as I read the earlier Chaos books, and the times that he was particularly cruel, I really didn't want to love him. But I did. I do. And you will, too.
And here's a cool thing: The chapters alternate a good bit between the present and the past, so we get to effectively ride along with Logan and Millie from the moment they meet. Sometimes, I don't like getting pulled out of the story for a flashback, but this worked. I liked being able to see for myself why and how Millie and Logan worked, what that first moment was like, and, basically, why their ending was a tragedy. I got to feel for myself how wrong it was for them to end–but also, how right. Out of all adversity comes something good, right? And the good that Logan and Millie found individually, the powerful lessons they learned, would never have happened had they not walked through that fire. The scars remain, but so do the gifts. I hope you count them as you go along.
Now, luckily, during all of this drama, we have a few comic moments. Imagine Lucy and Edith with a sidekick, a kind of Lucy triple-threat paving the road to their own private biker Hells with their good intentions. Enter Tyra, Lanie and Elvira to the story. Even though Tyra and Lanie have been most vehemently warned against intervening, you know those girls can't keep their noses out of a love life gone wrong! They've got to get in there and help to straighten things out, so naturally Elvira came along to help! And when they "help," it's a bit of a comedy of errors. After the first foray into the Millie and High fire, they walk away scorched but not charred. My favorite Elvira line: "We were on an assignment. Now we're on a mission. Regroup for tactical strategy meeting, tonight, cosmos and boards, my house…And don't tell me no shit about no kids. Saddle those biker boy of yours up with diapers and Tasers and get your ass to my house. Seven sharp. No excuses accepted." Honestly, Millie and High never a stood a chance of staying apart with these ladies on the job. Later, Millie's sisters and best friends enter the story and Tabby gets thrown into the mix, so get ready.
Walk Through Fire has everything you want and expect out of a Chaos novel: an unbreakable bond of family, love, love, love (even when it's hard), hilarity (Did I mention Elvira and the Chaos old ladies?), brotherhood (and sisterhood), and the kind of excitement only a Chaos turf war (to say the least) can provide. Really, girls, you have it all here. On motorcycles. With hot bikers and the hotness of the whole greater Denver-area/Kristen Ashley universe stepping in to help. I mean, there's Shirleen, Vance and the Hot Bunch, Hawk and the commandos, Mitch Lawson and the hotties of the Denver PD. The only thing you'll be left wanting when you finish this book is more Chaos.