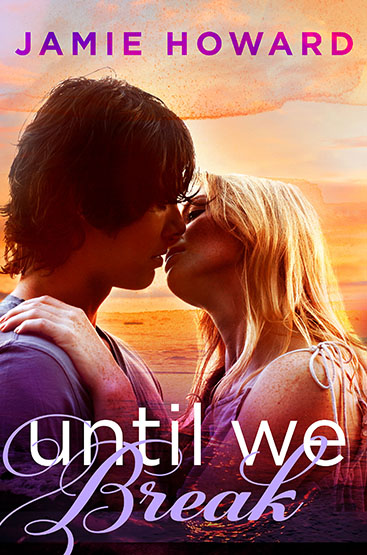 Until We Break
by Jamie Howard
November 10, 2015
Amazon
| 
Kobo
| 
iTunes
| 
B&N

When Sloane Avery stops to help a stranded driver, she finds more than a broken down car on the side of the road. Luke Evans is faster and sexier than her Maserati, but with her heart still on the mend, she's not interested in taking him for a test drive. Despite their initial disdain for each other, emotion and passion simmer, complicating their fragile friendship. But when a tragic loss and devastating betrayal send them spiraling, their growing love isn't enough to save them.
That was five years ago, practically a different lifetime and definitely a different Sloane. Before she's been hardened by booze, sex, and as much distance as she could get from the past. Now, called home on a family emergency, she's determined to hold onto her heart the next time she sees Luke.
Except Sloane's not the only one who's changed. Luke's turned his life around. Only the reappearance of Sloane and the reminder of his biggest mistake can put a dent in his plans. Luke is set on fixing what he's broken. But with her emotions boiling to the surface, Sloane needs to decide if falling in love is life's greatest gift or its cruelest joke.
INTERVIEW
Welcome, Jamie Howard! First off, can you tell us a little bit about yourself?
Sure! Hi guys, I'm Jamie. *waves* By day I work for an insurance brokerage firm, but I'm an author by night which is my real passion. I'm an early bird and never waste time matching my socks. I binge-watch TV shows on Netflix whenever I get free time, and revel in getting my friends and family hooked on new shows (if you're not watching The Flash or The 100, you should be!). My purse could be classified as a weapon with how much it weighs, but that's not too surprising since I never go anywhere without my Canon DSLR. In between all of that I spend my time wrangling my son, husband, and our three dogs.
Can you tell us something that not a lot of people know about you?
I am firmly situated on Team Villain for almost all things. Give me a dark, brooding villain over a hero any day. (I'm looking at you, Loki.)
Where did the idea for Until We Break come from?
A lot of the romances I've read (and loved) have starred a bad boy, damaged hero. But I had a much harder time finding the same type of troubled character in a heroine. So I decided that I wanted to write one, and that's where the initial nugget of inspiration came from in the early stages of Until We Break.
How is Luke similar and/or different compared to other heroes in romance books?
In some ways, Luke is a lot like the damaged manwhores you'll encounter in other romance novels. He has a troubled home life and uses sex as an escape. But, since Until We Break spans a five year period, you'll also get to see how he grows and works his way through some pretty terrible stuff to become a really decent guy.
Tell us a little about your writing process. Any pre-writing rituals or routines?
I actually don't have too many rituals when it comes to writing. With a toddler running around, I grab every free, quiet second that I can to write. When I'm just starting a draft and getting to know the characters, I prefer to write without any other distractions—no TV, music, or anything like that. I can't eat when I'm writing either, so when I'm really in the zone sometimes lunch will come and go without me even realizing it. Oops!
When you create your characters do you ever put bits of either your personality or bits of personalities from people close to you?
Always. Sometimes intentionally, sometimes subconsciously. Without a doubt, in every book I've written one of the characters has a bit of me in them. But unless you know me really, really well, you'd be hard-pressed to figure out what that is.
What are some good books you've read lately?
I've read so many good books lately! Let me see, I'll Meet You There by Heather Demetrios, The Year We Fell Down by Sarina Bowen, and Kissing Madeline by Lex Martin are some of my recent favorites.
If you could collaborate with another author in writing a book, who would it be?
Colleen Hoover, hands down. Whenever I find myself in a writing slump I'll pick up one of her books and by the time I'm finished, I'm always feeling inspired. I am a huge fan, so to collaborate with her would be amazing.
THANK YOU, JAMIE HOWARD!