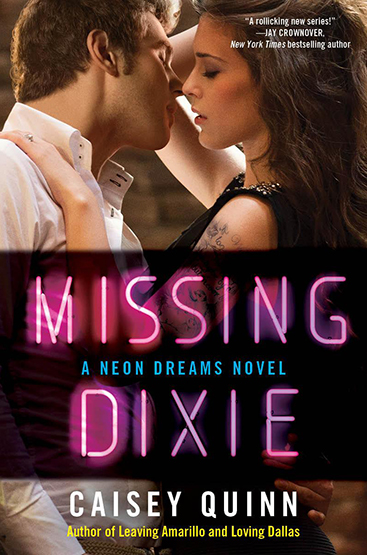 Missing Dixie
by Caisey Quinn
Series:
Neon Dreams #3
Amazon
| 
iTunes
| 
B&N

Fighting for redemption…
I've lived most of my life in darkness, beneath the shadows of secrets and addictions. The last thing I ever wanted to do was hurt the only girl I'd ever loved-the one who brought me into the light. In my entire life I'd made one promise-a promise I'd intended to keep. I've broken that promise and now I have to live with the fallout. Dixie Lark hates me, and I have to tell her that I love her. I also have to tell her a truth that might destroy us forever.
Can she love me even if she can't forgive me?
Learning to move on…
Gavin Garrison broke his promise to my brother and he broke my heart in the process. I may never love anyone the way I've loved him, but at least I won't spend my life wondering what if. We had our one night and he walked away. I'm finally beginning to move on when my brother's wedding and a battle of the bands brings us back together.
Our band is getting a second chance, but I don't know if I can give him one. How do you hand your heart back to the person who set it on fire once already?
TEASER
When Dixie finishes, she takes her place across the altar and I can't tear my stare from her. Her sapphire eyes shine like diamonds with the promise of tears.
I wish I could give you this.
Right as I'm about to look away, her gaze collides with mine. My heart swells in my chest. I have so much to say and no words to say it.
I'm sorry.
I'm trying.
I love you.
She doesn't even flinch at the turmoil I know is probably apparent on my face. She just gives me a confident smile and a knowing look as if to say, One day.
One day that will be us.
A future.
A forever.
I fucking hope so.
I just have no clue how we'll ever manage to get there.