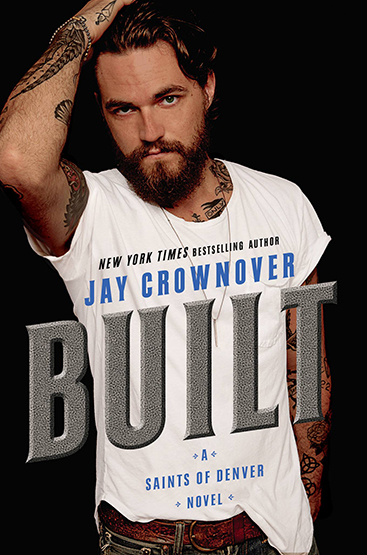 Built
by Jay Crownover
Series:
Saints of Denver #1
January 5, 2016
Amazon
| 
Kobo
| 
iTunes
| 
B&N
From the New York Times and USA Today bestselling author of the Marked Men books comes an electrifying new spin-off series, Saints of Denver, featuring all the characters fans have been dying to read about.
Sayer Cole and Zeb Fuller couldn't be more different. She's country club and fine-dining, he's cell-block and sawdust. Sayer spends her days in litigation, while Zeb spends his working with his hands. She's French silk, he's all denim and flannel.
Zeb's wanted the stunning blonde since the moment he laid eyes on her. It doesn't matter how many smooth moves he makes, the reserved lawyer seems determinedly oblivious to his interest—either that or she doesn't return it. Sayer is certain the rough, hard, hot-as-hell Zeb could never want someone as closed off and restrained as she is, which is a shame because something tells her he might be the guy to finally melt her icy exterior.
But just as things start to heat up, Zeb is blindsided by a life altering moment from his past. He needs Sayer's professional help to right a wrong and to save more than himself. He can't risk what's at stake just because his attraction to Sayer feels all consuming. But as these opposites dig in for the fight of their lives, battling together to save a family, the steam created when fire and ice collide can no longer be ignored.
EXCERPT
I met her at a bar.
She had a beer bottle in her hand even though she looked like she should be sipping champagne out of an expensive flute, and that inexplicably turned me on. She was pretty and looked completely out of place in the no-name bar sitting across from one of my longtime friends who also happened to be her long-lost brother. He was the reason she was here. In that split second that I laid my eyes on her I wanted to be the reason she stayed.
I knew it was rude and that the two of them needed some time together, some time to figure out what they were to each other now that she had blasted into his life unannounced. If I was a better friend I would have left them alone. As it was, I made my way over to the tiny table and sat down. I was covered in sawdust and had drywall mud caked in the hair on my head and on my face, but she didn't flinch or bat an eyelash when I purposely broke up their party of two and placed myself as close to her as I could without actually touching her.
My buddy Rowdy St. James lifted his eyebrows at me as I stared at her while he introduced us. Sayer Cole. Even her name was elegant and sophisticated sounding. She was an enigma, this pretty woman that seemed like she should be in any place but this bar with the two of us. She'd showed up out of the blue a couple of months ago claiming to be Rowdy's half-sister, claiming that they shared a father, claiming that all she wanted was to be in his life and have some kind of family of her own. She looked too delicate to be that brave. Came across as way too proper to have said "fuck it all" and picked up her life to move it someplace unknown without being sure of her welcome. She looked like silk, but if my guess was right about her, it was silk wrapped around steel.
REVIEW
First of all, I'd like to talk about Jay Crownover and her super amazing talent. Not many author touch me with their stories. Doesn't mean there are not a lot of authors and stories out there that I love, but very few actually reach in and connect with me on a personal level.
Somehow Jay manages to do this EVERY SINGLE TIME! Jay has this ability to really connect with her readers. Even if I haven't had the same struggles as her characters, there is always just something about them that will make me connect with them so that I can take a very personal journey with them throughout the story.
Now let's talk about Zeb and Sayer.
Oh #MrFixIt. Where do I begin? I think Zeb is just about every woman's dream man. He works well with his hands. J He is a straight-shooter and not much for heart and flowers. Doesn't mean he doesn't know how to swoon a lady, but he does it with his own style of charm. I was also really amazed with Zeb for the amount of patience he had in trying to break through to Sayer. He knew he wanted her, he knew she wanted him, so he waited for her to be ready for him.
Sayer was so relatable to every woman out there in my opinion. She has insecurities that I think any of us could develop even without her troubled past that had a hand in helping doing her head in. She knew she wanted Zeb, and knew Zeb wanted her, but she was just so stubborn in believing it would never work out.
I loved this story, and I loved how real and raw it felt to me. Jay nailed each character with their personalities and the dialog was spot on.
Thank you once again Jay Crownover for touching my soul with your characters!