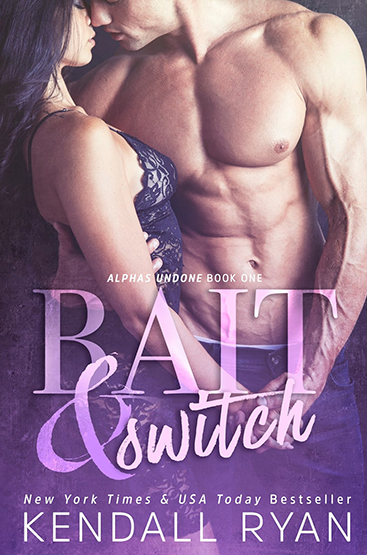 Bait & Switch
by Kendall Ryan
Series:
Alphas Undone #1
February 9, 2016
Amazon
| 
Kobo
| 
iTunes
| 
B&N

Love is a trap, a trick only other people fall for. Former Navy SEAL Nolan has no such illusions. The only things real in his life are his beloved bulldog and the two women in his life. One is soft and innocent, someone he could build a real future with. But the other is dark and gives him all of the wicked things he craves behind closed doors. What starts out as casual quickly becomes complicated. Can he walk away from a sure thing for something that's foreign territory?
Nolan thinks we met by chance. We didn't. I sought him out, seduced him, and in return got the sanctuary I needed to survive. But now, impossibly, I've fallen in love with him. I don't care that he has another lover, because when he finds out who I am, it's going to ruin any chance I ever had with him anyway. She's the least of my worries.
Bait & Switch is Book 1 in the new contemporary romance series Alphas Undone, which will each feature a new couple. This is a standalone full-length novel. It does not contain cheating.
I received this book for free from in exchange for an honest review. This does not affect my opinion of the book or the content of my review.
GUEST POST
A series with all Alphas … Tell us more …
My first book of 2016 is titled BAIT & SWITCH, and as early reviewers will tell you, I'm going in a bit of a different direction, writing something that's challenged me and pushed me to grow. It's edgy and unique, and I hope readers love the premise as much as I do. It's really the first time I've incorporated suspense elements into my plot, along with a strong compelling romance, and of course let's not forget it's about a badass alpha hero and ex-Navy SEAL.
The series, titled Alphas Undone will be shaped around interconnected standalones about strong, alpha heroes who come undone when they meet their matches in the sassy, smart heroines I've dreamed up. As it stands, there will be three books total. Possibly more in the future.
I can't wait for you to meet Nolan, our first alpha hero in Bait & Switch.
KENDALL RYAN
REVIEW
When I read the synopsis for 
Bait & Switch
 a while back I can admit to being a little bit on the fence. This didn't sound like any of the books Kendall Ryan has written before and it was honestly kind of hard to tell what direction this book would take. Is it going to be a real honest love triangle? Is one of the girls out to hurt Nolan? Do both the girls know about each other and is one of them out for the other one? I had so many different scenarios going on in my head!
But in the end that was all the more reason as to what made me what to get my grubby little hands as fast as I could. I love when authors go outside of the comfort zones and try different things with their writing. It intrigues me and makes me want to be the first to read it! I also love when authors don't give away anything in their synopsis expect for some suspense and intrigue, because I mean – who wants to know the whole story before they start the book?
I'm trying not to give anything away but I liked that the book starts off very very hot before getting into the story with our hero, Nolan and heroine, Lacey. Because there is only ONE hero and ONE heroine. Honestly, this really IS NOT a love triangle story. Does it have a man who is in some form of a relationship with two women at the same time? Well, yes. But there is a rhyme and reason to our hero, Nolan, and as you should already know, every story is different. And I promise you won't need patience to figure him out because once you start reading Bait & Switch, and meet Nolan, you won't be able to stop until you reach the last page.
Not only did I fall in love with Nolan and these characters, but also I feel in love with the story itself. It was so unique and different from anything I've read recently. We get to be there as these characters grow their connection and relationship but we also get a little bit of suspense and some plot twists along the way.
I'm just saying, Kendall Ryan has never disappointed me. Ever. I have been a loyal reader of hers since she published Unravel Me & Make Me Yours and will continue to be so. But I have to say, THIS IS HER BEST BOOK YET! It has been so amazing and even inspiring to watch Kendall Ryan's career as an author grow and also to continue to see how her writing just keeps getting better and better!
I'm telling you guys, GIVE BAIT & SWITCH A CHANCE! You won't regret it!
P.S. Kendall – Gig 'em Aggies!…. Longhorns suck! 😛