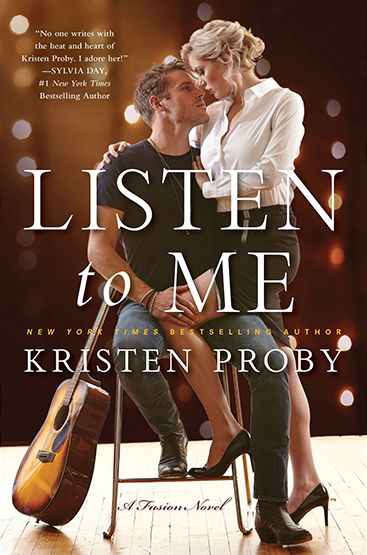 Listen to Me
by Kristen Proby
Series:
Fusion #1
April 12, 2016
Amazon
| 
Kobo
| 
iTunes
| 
B&N
 In New York Times and USA Today bestselling author Kristen Proby's brand new series, five best friends open a hot new restaurant, but one of them gets much more than she bargained for when a sexy former rock star walks through the doors—and into her heart.
Seduction is quickly becoming the hottest new restaurant in Portland, and Addison Wade is proud to claim 1/5 of the credit. She's determined to make it a success and can't think of a better way to bring in new customers than live music. But when former rock star Jake Keller swaggers through the doors to apply for the weekend gig, she knows she's in trouble. Addie instantly recognizes him—his posters were plastered all over her bedroom walls in high school—he's all bad boy...exactly her type and exactly what she doesn't need.
Jake Keller walked away from the limelight five years ago and yearns to return to what's always driven him: the music. If he gets to work for a smart-mouthed, funny-as-hell bombshell, all the better. But talking Addie into giving him the job is far easier than persuading her that he wants more than a romp in her bed. Just when she begins to drop her walls, Jake's past finally catches up with him.
Will Addie be torn apart once again or will Jake be able to convince her to drown out her doubts and listen to her heart?
EXCERPT
A man walks onto the stage and sits on the stool, strums his guitar. The MC didn't announce his name.
The singer is wearing a black T-shirt and jeans. No shoes. A hat is pulled down his forehead, shadowing his face.
But I'd recognize those tattoos anywhere.
"Oh my God, I think that's Jake Knox," I whisper to Kat in disbelief.
"The tattoos," she breathes and I roll my eyes. "God, I used to be in love with him. I had his posters on my walls when I was in high school."
"Most did," I reply and watch as his fingers play the strings on his guitar as if he's making love to a woman. "God, he can play."
"What's he doing at an open-mic night?" Kat turns wide eyes to me. "Does he live here?"
I nod. "Yeah, I heard somewhere that he lives nearby. Maybe he needs an ego boost?"
But then he begins to sing a familiar Lifehouse song, and my chest tightens. I love this song. I love his voice. It's raw and rich and just a little bit raspy. It's pure sex.
"He'd be absolutely perfect." Kat's voice is a whisper. She probably didn't mean to say it out loud.
"I know we can't afford him. He probably plays at celebrity weddings and shit."
Jake glances up, showing his face and those amazing green eyes for the first time, and aims them right at me. He sings at least five lines, holding my gaze, then winks and lowers his head again.
Arrogant.
"Speaking of egos," I murmur. "That would be a hot mess."
"A sexy-as-fuck hot mess," Kat replies. "God, look at the way his muscles bunch as he plays."
Trust me, I noticed. You'd have to be blind with an IQ of minus 20 to not notice the way Jake Knox moves. He makes everything in me come awake. Which makes sense because he's probably been trained to do that. He has to sell music, after all.
REVIEW
Let me just warn you that Kristen Proby is one of the very few authors who I wait and watch for every one of her books to release. So – that may make me a little biased.  I have been reading her books since she first released
Come Away With Me
, and have NEVER been disappointed. Not once.
Listen To Me introduces us to a group of friends who have now gone into business together. Addie, Riley, Mia, Kat and Cami have opened a new restaurant called Seduction. While Listen To Me is Addie and Jake's story, we get to meet all the girls along with a few other fun characters I expect to continue popping up as the series continues.
Here is one of my favorite things about Kristen Proby and her writing style: I want to hang out with her characters. I'm being really serious. I want to stalk them all and make them become my new best friends. She writes characters that are so charming and fun that when you are reading their dialog with each other, you just want to join in! Every time Addie and her girls met
up with each other in Listen To Me I wanted to be there with them and cheering them on and laughing with them.
Kristen also knows how to write us some swoony heroes, and that certainly includes Jake. I mean who doesn't love a guy who writes songs and can sing?
Overall, I don't expect anyone who doesn't fall in love with Listen To Me!