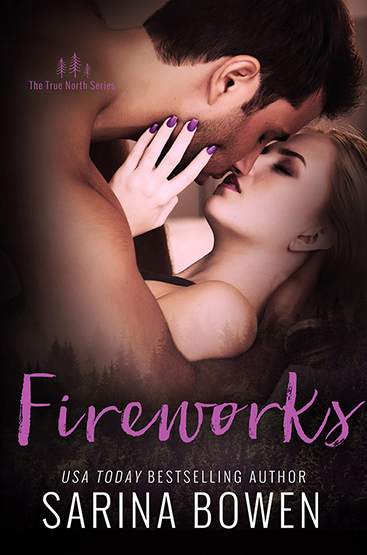 Fireworks
by Sarina Bowen
Series:
True North #6
November 13, 2018
Amazon
| 
Kindle
| 
Kobo
| 
iTunes
| 
B&N
Skye Copeland is on paid leave from her broadcasting job after accidentally drawing a wiener on the traffic map.
Let that sink in. Like it's her fault the traffic pattern created a perfect schlong?
Skye isn't laughing. She needs this job. And that's the only reason she's willing to chase down a story in her least favorite place—that hell on earth known as Vermont.
A quick trip. In and out. Much like – never mind. She can sneak into the town that once tried to break her, get the story and slide back into the good graces of her producer. Easy peasy.
But things go sideways the moment she steps over the county line. Her stepsister is running from a violent drug dealer. And the cop on the case is none other than Benito Rossi, the man who broke Skye's teenage heart.
His dark brown eyes still tear her apart. And even as she steels herself to finally tell him off after twelve years, the old fireworks are still there.
Things are about to go boom.