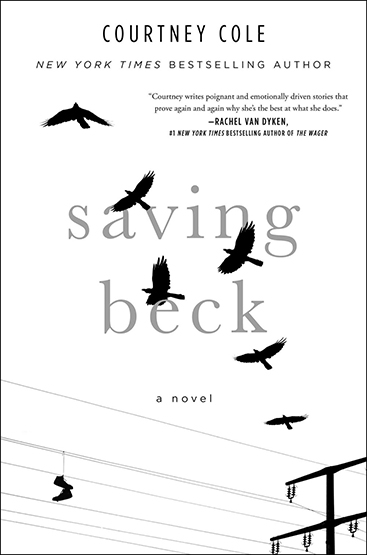 Saving Beck
by Courtney Cole
July 17, 2018
Amazon
| 
Kobo
| 
iTunes
| 
B&N

Reminiscent of the beloved novels by Mary Kubica and Jodi Picoult comes a chilling portrayal of a son's addiction and its harrowing effects on both him and his mother from New York Times bestselling author Courtney Cole.
There comes a time when offering your life for your child's doesn't work, when you realize that it'll never be enough.
The cold needle in his warm vein was a welcome comfort to my son at first. But then it became the monster that kept us apart.
Heroin lied, and my son believed. It took him to a world where the last year didn't happen, to a place where his father was still alive. What Beck didn't understand was that it couldn't bring his father back from the dead. It couldn't take away his pain, not permanently.
You think it can't happen to you, that your kids, your family, will never be in this situation.
I thought that too. But you're wrong.
Step into our world, and see for yourself.
Watch my golden boy become a slave to this raging epidemic. Watch me try and save him.
Drug addiction comes with a price.
Trust me, you're not equipped to pay it.
Don't miss this heartwrenching, evocative, yet hopeful novel—it will leave you forever changed.
EXCERPT
The winter air hit me in the face and took my breath away, but it still felt good. It felt like it was cleaning my lungs out, and was filling them up and I was a balloon and I might float away.
But I shouldn't.
So I tied myself to the ground.
I bobbed in the wind, and I was lost I was lost. The stars twirled together and they were in my eyes and the light was bright.
The reds were endless, tinting everything, outlining the world.
I collapsed onto a park bench in a place I didn't know. I looked around and there were trees and a merry-go-round and it was rusty and red because of course it was red. Everything was.
My head fell back and thunked against the metal bench and I stared at the night, my eyes wide open because I could see now, I could finally see.
Everything made sense.
Everything was clear.
I was all alone in this world. Everything else was an illusion.
My knuckles clenched and they hurt but they were insignificant.
I pulled out my phone because I understood life, I understood everything, and I had to share that. I had to share it before I forgot it or I slipped away.
I dialed at numbers, memorized numbers, and my mom answered on the second ring, and she knew me immediately because of course she did.
"Babe," she blurted. "Where are you? Are you okay?"
"I understand everything," I told her. My voice was slurred, but she'd know what I was saying. She knew me. "I get it. Nothing matters. That's the point. None of us matter. You don't, I don't. It's all a sham. It's a f@cking scheme."
I was agitated, getting more so by the minute, and she was confused.
"I don't understand," she said slowly. "Just come home. We'll talk about it when you get here."
I laughed because she was trying to trick me because everyone was trying to trick me because the world was a scam. Did they think I didn't know that?
"Nice try, "I told her. "I'm never coming home. Don't you understand? I'm going to be a f@cking star in the sky. And you can't find me. No one can."
"You're not a star," she said and she sounded scared. "You're a man. We've got to get you some help. Please."
"That's a lie," I insisted and I was shouting. "That's a f@cking lie. I'm not an addict, I just know the truth. You need to find the truth, Mom."
From the corner of my eye, I saw people standing in the shadows, and they moved and reached for me, and I startled, glaring at them.
"Get away," I shouted at them.
"Beck, what's wrong?" My mom asked quickly. "Who is with you?"
"They're trying to get me, but they can't," I told her. The people backed up now, until they were just black blurs swirled into circles were their faces should be.
"Beck," she said, pleading now. "Please. Tell me where you are."
"You just want to put me away," I told her. "I know that now. You don't want me around because I'm a problem. I'm difficult. Well, guess what? I won't bother you again. You won't ever see me again. Forget that I exist. I'm going to forget about you."
She cried out but I hung up. And I threw my phone into the trash can so hard it shattered into a billion pieces.