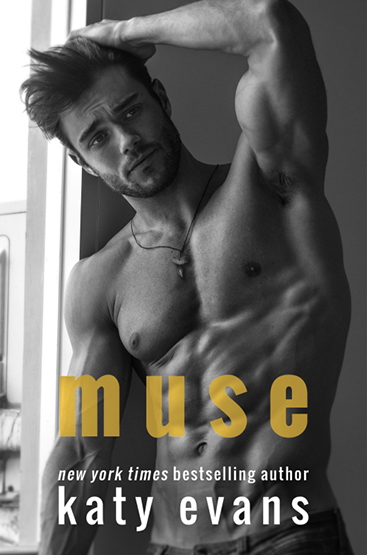 Muse
by Katy Evans
Series:
Manhattan #3
September 14, 2018
Amazon
| 
Kindle
| 
Kobo
| 
iTunes
| 
B&N

A brand new sizzling standalone contemporary romance by New York Times, USA Today, and Wall Street Journal bestselling author Katy Evans.
It was supposed to just be a quick trip to Manhattan.
My best friend was heartbroken. She needed support, and I needed inspiration.
I hoped to love the city. Bustling. Crazy. Inspiring New York.
But I ended up at the airport, heading home in the same condition that I arrived.
In a rut.
Add to all that, missing my flight and losing my laptop—the laptop, where the Best Love Story Ever sat on my hard drive.
Enter Noah Steele. Eerily familiar. Movie star. Heartthrob. Sultry romeo with bedroom eyes.
(But we're not going there.)
He missed his flight too.
Noah is so smoldering, lip-bitingly hot, he's not taken seriously as an actor, and is struggling to launch his career in New York.
He's only ever had superficial girlfriends, so he's having trouble showing true passion in his acting—the same challenge I'm having with this book.
When we met, we didn't know that our connection would bring us the change we'd been craving.
That we'd be the very thing the other needed and didn't know.
Each other's muse.
** MUSE is a complete standalone, no previous reading is necessary to enjoy.
EXCERPT
She scans the busy terminal, filled with frantic people with places to go. On the contrary, the two of us have fifteen hours to kill. We wind up wandering to the nearest duty-free shop, selling perfume and liquor and a lot of other shit I have no interest in.
She reaches over and sniffs a cologne, then wrinkles her cute pixie nose. I take it and sniff. Her assessment was correct. It's putrid. "For your boyfriend?" I inquire.
She ignores me and sniffs another one.
I lift a glass bottle off the counter and hand it to her. "Try this one. It's mine."
She narrows her eyes at me, but sniffs it. I can tell from the way she reacts that she likes it: eyes widening a little, small smile. Noncommittally, she says, "Hmm."
"For your . . . husband?" I venture again as she turns her back on me.
She whirls on me.
"For no one," she spits out. "I'm browsing, trying to kill time, because if I have to sit and think about my laptop for fifteen hours, I might cry. Or . . . have another panic attack. Which is the last thing I need. What about your hotel?"
I'd entertained the idea of going to a hotel, alone, for about one minute. But that was before I met her. And I realized that this trip has been a washout enough without me going back to a room, alone, and emptying out the mini-bar.
Plus . . . a lot could happen in fifteen hours.
I lean against one of the display cases and cross my arms. "Ah, Rebecca, Rebecca, Rebecca. How can I leave you, alone, here? That wouldn't be very gentlemanly of me."
I expect her to fight it, but she smiles. She lifts a bottle from the counter and says, "This one is mine."
I sniff it. Damn good choice. "You wear this? No wonder I want to lick you up and down." I lean forward. "Let me smell it on you."
She takes a step back, gives me a cautious look. "Why?"
"Because it smells different on every person."
She tilts her head to the side, baring her neck for me, as if she's welcoming the vampire's kiss. I lean in and inhale.
Fucking In. Cred. I. Ble.
And just that she lets me this close to her, close enough that I could lick that perfect, swanlike neck of hers, seals the deal.
All that protesting? It's a front. She's into this.
I place a hand on the small of her back and guide her out toward the main concourse. "If you would like to research for your book, believe it or not, there are places we can be alone. Even in this airport. The family restroom, for instance."
She lets out a bitter laugh. "Oh. That would be really romantic."
"It's not the place, Rebecca," I say as she looks up, licking those full pink lips of hers wet. She's begging to be kissed. "It's never the place. It's always the person."