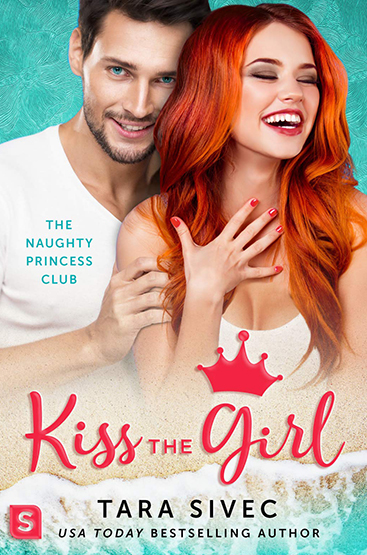 Kiss the Girl
by Tara Sivec
Series:
The Naughty Princess Club #3
September 4, 2018
Amazon
| 
Kobo
| 
iTunes
| 
B&N
| 
Audible

A struggling antiques collector finds herself falling in love with a millionaire playboy; but can she ever be a part of his world?
Meet the Naughty Princess Club, a series from USA Today bestselling author Tara Sivec that brings readers to Fairytale Lane and the hilarity—and romance—that three women fall into once they decide to strut their stuff and bring on their own happily ever after.
While her friends have broken free of their insecurities, Ariel Waters is struggling to come out of her shell. Her ex-husband took away her voice and her self-confidence, and Ariel is drowning under a sea of debt to afford the alimony she has to pay him. She refuses to ever fall for a man's charms again, and is determined to make her own way.
When her house and her beloved antiques are taken by the bank after too many missed payments, Ariel finds herself adrift until the infuriatingly charming Eric Sailor comes to her rescue. Although she can't stand the millionaire playboy, Eric's kindness and unconditional support reveal hidden depths and a love that Ariel never imagined she could find.
But there are outside influences who will stop at nothing to keep them apart; can Ariel and Eric weather the storm and find a way to be together?
REVIEW
I read all three books in
The Naughty Princess Club
and I just absolutely devoured them! These books were about three women coming together and giving each other strength to take charge of their lives by starting their own home stripping business.
Now, I was a little weary on how Tara Sivec could write a series of romance stories around a group of women running a stripping business. I should have known better. She absolutely pulled it off with the most hilarious circumstances and dialog that had me laughing out loud so hard I had tears in my eyes. I've always been a sucker for fairytale remakes and this series DID NOT DISAPPOINT!
I do have to admit that my other concern was going into the third book, Kiss the Girl, and about Arial's character in the book. In the first two books (At the Stroke of Midnight and In Bed with the Beast) Arial is a certified badass. She is a snarky – tells it like it is – loyal friend who is always pushing the other two to do everything to be happy. To be honest – she was my favorite. Even though the first two books are about her friends, I fell in love with her character the most. I didn't want her character to get softened while getting her own happily ever after. Again – I don't know why I worried. Arial's character was still cussing like a sailor and giving out her badass attitude at every turn. Her character was still everything I loved about her.
Tara Sivec also made sure that the storyline fit to Arial's character and that her hero, Eric, was the perfect match to take on all the sass Arial had to give. It was absolutely the perfect ending to this outrageously and ridiculously hilarious series.
Kiss the Girl picks up were In Bed with the Beast ends. There're no overlapping timelines. Once one girl gets her man the next follows suit. I would highly suggest reading The Naughty Princess Club series in order. Each book could probably be read as a standalone, but you wouldn't get the full reading experience this series has to offer.