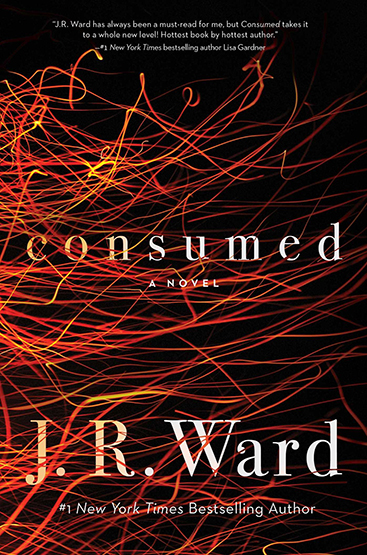 Consumed
by J.R. Ward
Series:
Firefighters #1
October 2, 2018
Format:
ARC
Amazon
| 
Kobo
| 
iTunes
| 
B&N
| 
Audible

From the #1 New York Times bestselling author of the popular Black Dagger Brotherhood series comes a brand-new novel about arson investigator, Anne Ashburn, who is consumed by her troubled past, her family's scorched legacy, and her current case: chasing a deadly killer.
Anne Ashburn is a woman consumed...
By her bitter family legacy, by her scorched career as a firefighter, by her obsession with department bad-boy Danny McGuire, and by a new case that pits her against a fiery killer.
Strong-willed Anne was fearless and loved the thrill of fighting fires, pushing herself to be the best. But when one risky decision at a warehouse fire changes her life forever, Anne must reinvent not only her job, but her whole self.
Shattered and demoralized, Anne finds her new career as an arson investigator a pale substitute for the adrenaline-fueled life she left behind. She doesn't believe she will ever feel that same all-consuming passion for her job again--until she encounters a string of suspicious fires setting her beloved city ablaze.
Danny McGuire is a premiere fireman, best in the county, but in the midst of a personal meltdown. Danny is taking risks like never before and seems to have a death wish until he teams up with Anne to find the fire starter. But Danny may be more than a distraction, and as Anne narrows in on her target, the arsonist begins to target her.
From the creator of the bestselling Black Dagger Brotherhood, get ready for a new band of brothers. And a firestorm.
I received this book for free from in exchange for an honest review. This does not affect my opinion of the book or the content of my review.
REVIEW
Talk about a story with suspense that keeps you on the edge of your seat and won't let you put the book down… and little bit romance to go along with it.
I could not put this book down until I was done! Not only do we get a romance story about heroine Anne and hero, Danny but there is a suspenseful storyline that is just as captivating! It'll keep you turning to the pages because you have to know who, what, when, where ,why and how!
Now, I did not know beforehand that there were prequels to this novel, therefore I did not read them before diving in. So if you do the same, that's ok, you'll still get the full impact of Consumed without having read The Wedding from Hell prequels. However, I do strongly encourage you to pick them up because you'll have a little more insight to some of the other characters and their stories.
I really do have to say that the suspenseful storyline was just as captivating as the romantic storyline. But the romantic storyline was pretty much a keep-you-on-the-edge-of-your-seat suspenseful ride as well. Could Danny and Anne move beyond their past and finally be together? Would one of them finally admit their feelings to the other?
Consumed starts off with the tragic event that takes Anne away from the 499 crew and Danny feels reasonability for that. My heart was literally on a rollercoaster with these two characters as they broke my heart, gave me hope, ripped that hope out of my cheat and put my heart back together multiple times.
If you love a good suspenseful storyline with some good plot twists then you will not be able to put this book down once you start!