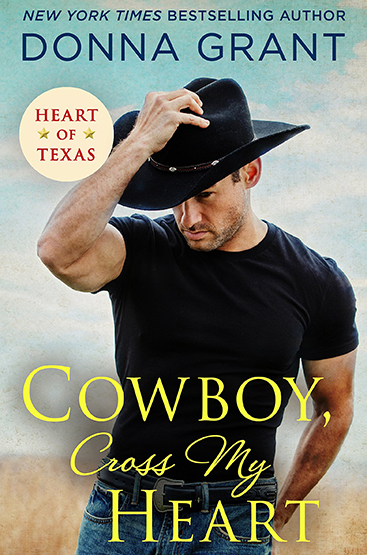 Cowboy, Cross My Heart
by Donna Grant
Series:
Heart of Texas #2
August 28, 2018
Format:
ARC
Amazon
| 
Kindle
| 
Kobo
| 
iTunes
| 
B&N
| 
Audible

New York Times bestselling author Donna Grant takes you deep inside the Texas rodeo scene in the second book in her Heart of Texas series, Cowboy, Cross My Heart, where danger and desire ride side by side. . .
Naomi Pierce isn't the type to let a cowboy sweep her off feet. It's not her first rodeo, after all. But when she returns to her Texas hometown, she can't help but be swept up again in the rough-and-tumble world of hard-riding, bronco-busting good-ol'-boys she loved as a girl. She's here to photograph her best friend. But it's one fine-looking cowboy who really captures her eye…
Brice Harper is all man, all muscle, and all heart. From the moment he rides into the stadium, he can't help but notice the beautiful stranger with a camera watching him from the stands. It doesn't take a zoom lens to see the sparks of instant attraction. But things really start heating up when he meets Naomi up-close—and she tells him that someone is stalking her friend, the Rodeo Queen. Brice wouldn't be any kind of cowboy if he didn't offer to help the ladies out. But can the rough rider keep this sweet shutterbug out of danger—without risking his heart?
I received this book for free from in exchange for an honest review. This does not affect my opinion of the book or the content of my review.
REVIEW
This review may contain spoilers to some of the content of the story.
I could not get enough of Brice and Naomi in
Cowboy, Cross My Heart
!
Now, I went into this book not knowing it was the second in a series. It's ok because I still got the impact of the sweet relationship between the main characters. However, if you are a stickler for reading books in a series in order (like me), I would suggest picking up the first book The Christmas Cowboy Hero, which is the first in the Heart of Texas series. I really fill like by not having read the first book, I'm missing a lot from the other characters. I plan to go back and read The Christmas Cowboy Hero, Clayton and Abby's story, as soon as I can so I have a better understanding of all the characters before the third book, My Favorite Cowboy comes out – which I will absolutely have to one click.
While I loved the build up and slow burn of the relationship between Naomi and Brice, I also loved how Donna Grant didn't shy away from a really hot topic that very prominent in our country right now. I'm sorry if this is a big spoiler for you (as I put the warning on here just in case) – but Naomi's friend in the story, Whitney, is sexually assaulted along with other girls that are in the rodeo circuit by men who have powerful positions in the community. When these men come after Naomi and Whitney to keep them quiet, Naomi makes it her mission to expose them.
This is such a powerful topic to cover, especially in the times we are currently in, and I have to give it to Donna Grant for not only taking this on in Cowboy, Cross My Heart but doing it tastefully and showing how strong and powerful women can be as well as showing how important it is for women to stand up and fight.
Brice and Naomi's romance was very sweet and very much a slow burn to get to that first kiss. But it was well worth it the wait! It went from a slow burn to scorching hot in a split second! I enjoyed every second of their romance because kept me turning the pages as they continued to build their relationship around the chaos of trying to keep everyone safe from the guys they were trying to expose.