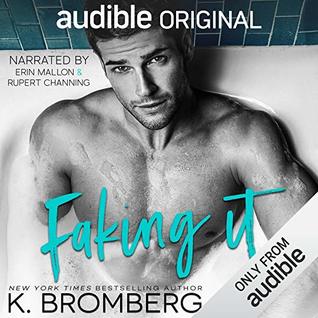 Faking It
by K. Bromberg
Narrator:
Erin Mallon, Rupert Channing
September 25, 2018
Format:
Audiobook
Amazon
| 
Kobo
| 
B&N
| 
Audible

Faking it never felt so good in this red-hot new standalone by New York Times bestselling author K. Bromberg — available in audio first!
Zane Phillips mistook me for his dog walker. It shouldn't surprise me that the man with a suit more expensive than my rent would assume that I was there to serve him. The positive? I put him in his place. The negative? I missed my job interview because of it.
Now I find out he's a rich Australian entrepreneur, and he wants to make up for tanking my interview. Yes, he's impossibly hot — but he's also an arrogant jackass — so... no thanks.
But after a little white lie I tell spirals out of control, I'm somehow offered the chance to play Zane's girlfriend to help promote his new dating website — and the best part? He can't say no because he'll get caught in his lie too.
Little did I know this would entail sharing a tour bus with him for the next few months. The fact that the bus has just one bed isn't the most ideal of circumstances, but this spokesperson gig might be the kick in the pants my career needs, so why not take a chance?
Famous last words.
Now I'm crisscrossing the country — and sharing that bed — with the one guy I can't stand. And even worse, my traitorous body is wondering at every turn what it's like to be down under the gorgeous Australian. But as the miles unfurl, so does our passion… and if I'm not careful, I might end up believing that fairytales really do come true.
REVIEW
Faking It
by K. Bromberg was immensely enjoyable to listen to driving to and from work this past week. The narrators, Erin Mallon and Rupert Channing, did an amazing job pulling me into the story and keeping me captivated.
If you are looking for a good enemies to lovers romance to read (or listen to), then Faking It is absolutely the book for you! I could not get enough of the dynamic between Zane and Harlow. Their animosity and competitiveness with one another and then the compulsive spark they can't fight that's between them.
Now, I've only ever read The Driven Trilogy by K. Bromberg, so this was definitely a different style than I'm use to from her. When I think of K. Bromberg I think angsty and heart-wrenching. And while Faking It had those moments as well, it was little more light-hearted and humorous.
Our heroine, Harlow is incredibly easy to connect with right away. She's down on her luck and is trying to push through and be independent. Our hero, Zane, on the other hand is a different story. He mistakenly thinks she's his dog walker and causes her to be late for a job interview and continue down the bad luck hole she has fallen into.
Zane takes a while to warm up to. It helps we have his point-of-view so we can hear his voice (Rupert Channing has an amazing voice just so you know ;P) in the story… but there are still moments of wanting to tell Harlow to run away as fast as she can.
Overall, this is a high recommendation! If you're not into audiobooks, don't worry because it'll be out in ebook and print on January 8th, 2019.