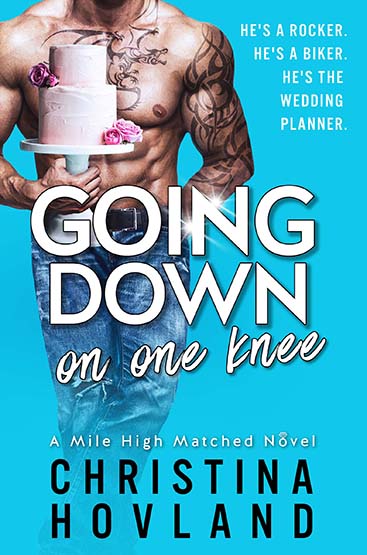 Going Down on One Knee
by Christina Hovland
Series:
Mile High Matched #1
Format:
ARC
Amazon

Number-crunching Velma Johnson's perfectly planned life is right on course.
That's a lie. Sure, she's got the lucrative job. She's got the posh apartment. But her sister nabbed Velma's Mr. Right. There has to be a man out there for Velma. Hopefully, one who's hunky, wears pressed suits, and has a diversified financial portfolio. He'll be exactly like, well… her sister's new fiancé.
Badass biker Brek Montgomery blazes a trail across the country, managing Dimefront, one of the biggest rock bands of his generation. With the band on hiatus, Brek rolls into Denver to pay a quick visit to his family and friends. But when Brek's sister suddenly gets put on bed rest, she convinces Brek to take over her wedding planning business for the duration of her pregnancy.
Staying in Denver and dealing with bridezillas was not what Brek had in mind when he passed through town, but there is one particular maid-of-honor who might make his stay worthwhile.
Velma finds herself strangely attracted to the man planning her sister's wedding. Problem is, he ticks none of the boxes on her well-crafted list. Brek is rough around the edges, he cusses, and doesn't even have a 401(k). But trying something crazy might get her out of the rut of her dating life—so long as she lays down boundaries up front and sticks to her plan…
I received this book for free from in exchange for an honest review. This does not affect my opinion of the book or the content of my review.
REVIEW
I have to say that
Going Down on One Knee
was an amazing little surprise that I thoroughly enjoyed from beginning to end.
Going Down on One Knee is about a heroine who has an idea stuck in her head of what the perfect man for her should be and a hero that is everything that is opposite of what that idea is.
I think every woman can relate to our heroine, Velma, in some capacity. Whether it be that we can be a little stubborn and a little bit stuck on how we think things should or shouldn't be. Or it could be the very vulnerable insecurities Velma has about herself and how others view her. Sometimes we can get stuck on how others perceive us, right?
What I also really enjoyed was how Christina Hovland wrote our hero, Brek, being the complete opposite of what Velma had as her ideal man. Brek is this carefree guy who doesn't care how other see him… but maybe he just might care how Velma sees him.
Opposites definitely attract in the wonderful and endearing novel. Going Down on One Knee had me going from laughing and swooning to biting my nails in anticipation. I was captivated from the start and enjoyed every second of it.