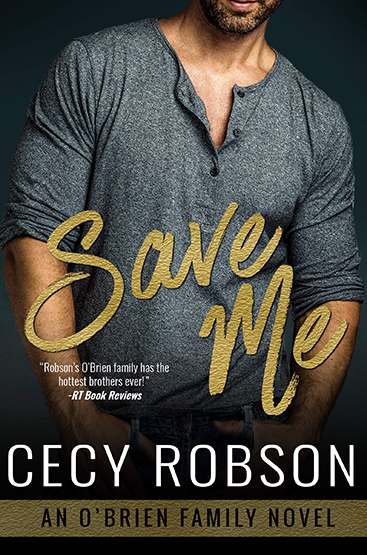 Save Me
by Cecy Robson
Series:
O'Brian Family #5
April 25, 2018
Amazon
| 
Kobo
| 
iTunes
| 
B&N

Three weddings. No date. What's a hot stud to do when all the women on his speed dial are either serving dinner to their families or serving time?
Out of all the O'Briens, Seamus is the best-looking, most creative, and, did I mention, best-looking? Single at almost forty wasn't a big deal until every sibling in his large and loud Irish family found "the one." Now, he's desperate for a wedding date, one he doesn't have to worry will make out with the limo driver or rob the bride and groom blind.
Allie Mendes is the good daughter, who's spent her life living in her perfect sister's shadow. But when her sister steals the man Allie was supposed to marry, that shadow she's lived in threatens to swallow her whole. Allie wants to believe a bright future awaits. But when she begs God to save her from this disastrous twist of fate, the last person she expects Him to send her is Seamus O'Brien.
Allie needs a stand-in boyfriend to avoid appearing as lonely as she feels. Seamus needs a decent woman without an ankle bracelet or a rap sheet as long as his muscular arms. The two make a deal to pose as each other's perfect date. But weddings mean romance and a chance at forever neither had planned.
REVIEW
I don't even know where to start with this review for
Save Me
by Cecy Robson other than to say that you can not go wrong in picking up a novel by Cecy Robson. She has become one of my major go-to authors. I have yet to find a book of Cecy's that disappoints. I have read all of the books in the
O'Brian Family
series and let me tell you,
Save Me
was just as good as the ones before. I will warn you that
Save Me
was a way slower burn then the rest. But that's ok, the slow born was worth it in the end.
Save Me is Seamus and Allie's story. And just like all the other books in the series, it was laugh out loud ridiculously hilarious with a tender and sweet love story to go along. I'm telling you, I've learned that when diving into an O'Brian Family novel that my sides will be hurting and I'll have tears running down my face from laughing so hard.
Now Allie's character was written in a way that I think a lot of women (including myself) could find her really relatable in a very vulnerable way. She has constantly been compared to her super model sister and always found lacking – even with her own family. So why would she believe she has a chance with the hot guy she went to high school with? Allie's character and strength really connected with me and I believe she will connect with a lot of other people as well.
Other than Seamus finally getting his story, what was so great about Save Me was we got to visit with the rest of the O'Brian family and have some of their stories get wrapped up as well.