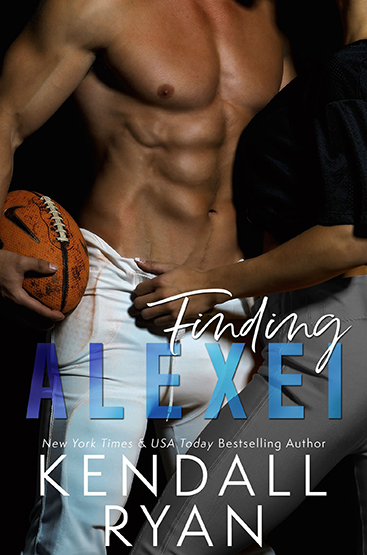 Finding Alexei
by Kendall Ryan
January 7, 2019
Amazon
| 
Kobo
| 
iTunes
| 
B&N

Spotting a hooker on a city street corner is not an abnormal thing.
Me bringing one home? Well, that's a first.
But this girl . . . She's in trouble.
And this asshole is not a guy she wants to go home with.
So I do the exact thing I shouldn't—I offer to bring her home with me instead.
She says this is the first time she's ever done this, which is adorably ironic.
Then proceeds to tell me a sob story about needing money to care for the baby who was left on her doorstep. That's when my stomach starts to clench. I think she might be telling the truth.
So I do what any respectable man would do—I take her home, stopping to pick up diapers and formula on the way—and discover that she was telling the truth all along.
Christ on a cracker.
I should have just kept walking.
I should have done a thousand other things except for barge into her sad life, offer to fix everything, fall for her . . .