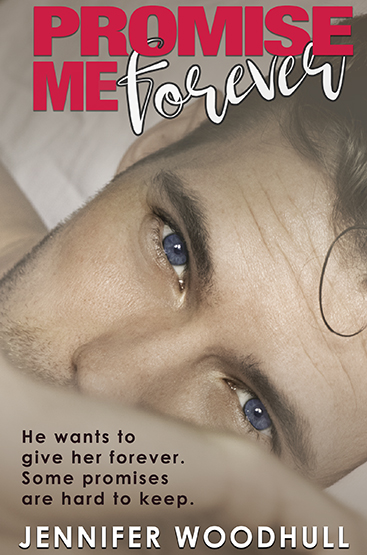 Promise Me Forever
by Jennifer Woodhull
Series:
Promise Series #3
November 7, 2018
Amazon
| 
Kobo
| 
iTunes
| 
B&N

He Knows How Lucky He Is...
That Doesn't Mean He's Happy
I get it - A lot of folks would kill to be in my shoes. I make my living playing guitar. That beach anthem you've had on repeat all summer – the one with the pickup trucks and drinking beer by the bonfire… I'm the guy playing that killer guitar riff on it.
The problem is, I hate my job.
I'd rather be playing classical music. I want my legacy to be more than the answer to some question in a game of music trivia. In a guitar-town like Nashville, though, gigs playing my kind of music are few and far between.
My brother-in-law lines up an audition for me with a classical musician looking for someone to play on tour, and I jump at the chance. When I meet the brooding star for the first time, though, I know I've signed on for a lot more than I bargained for. She may be young, but she's endured pain enough for a lifetime, and more. Peeking through that broken armor of hers is more beauty than I thought was possible in one person.
I've never been the type of guy to settle down with one woman. She's making me rethink that, and just about everything else I thought I knew.
She's looking for forever. I just hope that's a promise I can keep.
EXCERPT
It was a month later when I got the hysterical call from Colin's mother. She'd had a call from the Ministry of Defense. There had been an attack on the base where they were stationed at an undisclosed location. Colin and half a dozen other service men and women were killed.
We had agreed before he left not to tell our parents about the split until he returned. I suspected it was because he planned on trying to talk me out of it, but he would be in country and I'd be on tour, so there was no reason to belabor the argument. At the funeral, I played the dutiful fiancée, my family and friends around me as I wept, genuinely wept, for the man I had loved, and the life we'd never have together.
We held a private service for the beautiful, strong man I had once so loved – the one I thought I would spend my life with. I played a violin solo of Going Home. I shut my eyes as I played, remembering all the happiness I'd had with Colin before I saw who he really was. Our first date. Our first kiss. The day he proposed on the shores of Loch Ness.
I closed my eyes against the veil of tears as I pulled my bow. I wept for the man I loved. I wept for the pain I'd felt when I saw his betrayal. More than that, though, I ached for the days I lost with him – those empty days we'd been apart, not just in physical distance but in emotional separation – just before he died. I knew he loved me, and perhaps we might've gotten past what had happened, but now I'd never know.
At the state service for the lost heroes, there were photos of each soldier who had died. One, in particular, caught my attention. Next to the poster-sized photo of Colin in his uniform, was the smiling photo of another soldier – a dark-haired beauty. Beneath the image was a name plate which made my heart sink. It read, Staff Sergeant Marcella Ricci.
It was her. Marcie.