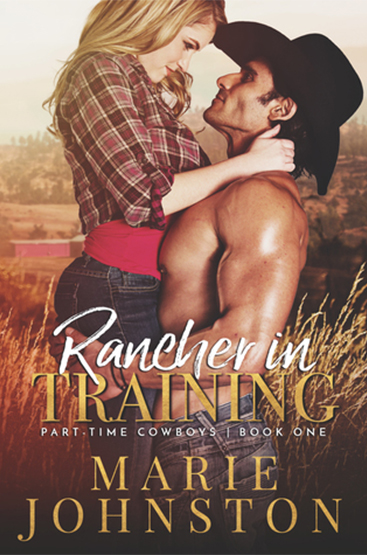 Rancher in Training
by Marie Johnston
Series:
Part-Time Cowboys #1
October 29, 2018
Amazon
| 
Kobo
| 
iTunes
Deputy Farah James arrests bad boys, she doesn't date them. So when an ex-con with a fiery past returns to town, she ignores the criminal things he does to her pulse. Behind bars, Jesse Rodriguez and his wicked looks were easy to dismiss, but as a free man with a life to reclaim, he's never been more dangerous to her—or her job and the ranch that depends on her paycheck.
When stopping to help a stranded motorist puts Jesse on the radar of the local deputy, for once, he doesn't complain. After all, Farah's just as cute as he remembers. Too bad she's also an icy professional who doubts he's a changed man. He's willing to give her up as a lost cause and make his way out of town…until an accident strands him at the ranch next door.
Crossing paths on duty is one thing, but seeing how good Jesse is with his hands threatens everything she's ever worked for. But Farah's not the only one taking a risk, and he won't torch his future again, even if it means leaving her in his rearview mirror for good.
EXCERPT
Headlights from outside flared into the dim living room. Jesse ripped his attention off an old rerun of Cold Case he hadn't seen before and sat up, wincing at the tenderness of his shoulders. He should've kept his shirt on while mowing.
Who was here? Caleb wasn't off duty until morning and it was nearly midnight. Whoever was here was parking in the back and swinging around to face out. Were they going to stop or was it a wrong turn?
He padded into the kitchen to peek out the window. Stepping to the side, he stayed hidden as he peered outside.
A patrol car.
Farah?
Three sharp knocks resounded on the back door.
He couldn't be thrilled to see her. She wouldn't stop by on or off duty for fun in her work vehicle.
Just in case it was another deputy, he checked under the yellowed curtain on the back door. It was Farah and from her stony face, no, she wasn't here for fun.
He opened the door. "Deputy James."
Her eyes widened on his bare chest before she jerked her gaze up to meet his eyes. "Jesse. Can I come in?"
As if he could ever turn her away, uniform or not. He walked away and went straight to the living room. Silence descended after he flicked the TV off, amplifying his heart pounding in his ears.
God, he didn't want to go back to prison, or the small jail of Moore. Farah in full ensemble set his nerves on edge. He perched on the end of the couch. Why was she here? What if something horrible had happened?
His heart threatened to explode. "Is my sister all right?"
"Yes. I'm not here because someone got hurt."
"Oh. Good." He pressed his fingertips together. The remains of his supper from earlier—Hot Pockets, with a chaser of Toaster Strudels—was still on the end table. And he hadn't showered once he'd finished push mowing the dandelions that threatened to take over the yard. He had only moved from the couch to prepare his food.
If he had known he was getting company, he would've done more tonight than enjoy the tiny AC unit chugging along in the living room window. Maybe he should've put a shirt on, but his male ego liked how her eyes kept straying to his chest. And his shoulders were dry and tight from the sun beating down. He should've stopped for a bottle of sunscreen before he left town.
Farah rubbed a temple, her gaze boring a hole in the worn shag carpet. She lifted her head to meet his eyes. "Look, I'll come right out and ask where you were all evening."
His brows lifted. Something had happened, but no one was injured. Yet it didn't sound good for him. "I've been here."
"Anyone who can vouch for you?"
He looked around. The only sounds besides their voices were the creaks of the floor when Farah shifted her weight.
Her mouth tightened. "Anyone who can confirm you've been here all night?"
"The hooker I sent home a half hour ago," he said sarcastically. Alarm flashed in Farah's eyes. Small satisfaction. "No. I've been alone. I walked a few miles mowing the enormous lawn, then I changed the oil in the riding lawn mower after cutting out the oil drain plug." The incident at the auto-parts store welled in his mind, spiking his ire. To work off his frustration and deter any thoughts of revenge, he'd push mowed the lawn as soon as he'd gotten back. "After that, I made myself a four-course meal: two Hot Pockets and then two toaster pastries. It was a long day in the heat."
His plans to buy a grill and steaks and eat something that had a chance of sticking to his ribs had died after his run-in with Clinton.
She considered him for a moment. He was dying to demand what was going on, but it'd only make him seem hostile.