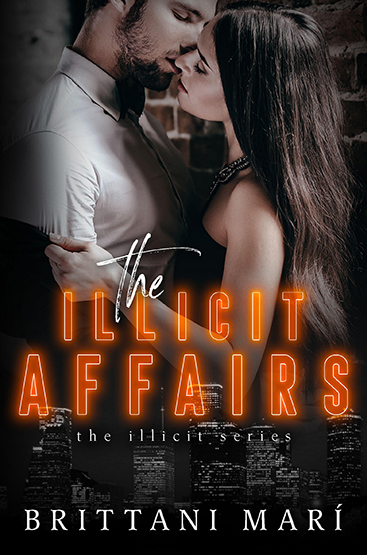 The Illicit Affairs
by Brittani Mari
Series:
The Illicit Series #1
July 2, 2018
Amazon

How many mistakes does it take to ruin you? How many lies can a person tell before you see them for who they are?
Mia Johnson blew me away in more ways than I could count. Her body. Her taste. Her need. However, her poisonous past started to affect me, and I knew what that meant–what needed to be done. Still, I was never a man who listened to reason.
This time I should have.
My name is Wesley Black, and this story may be twisted, but this woman is mine.
EXCERPT
It felt like I might suffocate when he shut the door. The air seemed to grow thicker as I settled in my seat. Alek was on the far side turned toward the window, listening to someone on the phone, clearly unhappy with the conversation. He didn't greet me as he turned in my direction and studied me. I diverted my eyes, careful not to stare. Your eyes could tell a person a lot. It was one of the main things that could get you caught. I often prided myself on my poker face, but I strongly felt my exhaustion might affect me.
I wondered what he was thinking, what he knew. Had I just offered myself on a silver platter to him? Was Avery right? Were there things I still failed to know about Alek?
He remained on the phone as the guards situated themselves in the front seats. I quickly turned away when my eyes met Logan's in the rear-view mirror. He started the vehicle and slowly pulled away from the curb, joining the mild traffic.
I busied myself on my phone while Alek continued his conversation. His deep voice gave me chills each time he cursed. I felt bad for the person on the other end. There were only so many ways a person could be cursed out. However, my husband was able to continue the verbal assault effortlessly.
I was on the verge of falling asleep when I felt his arm snake around my waist, pulling me next to him. His skilled fingers traveled underneath my dress, then quickly paused. The sudden realization that I no longer had panties on worried me. Maybe Avery had been right. The alcohol was affecting me. I had completely overlooked the fact that Wesley had kept them while I was in her bathroom. I thought about how I could play it off. It was possible for their absence to work in my favor. I waited for him to question me, but it never came. Instead, his eyes became dark as he pulled me onto his lap.
He continued his conversation, never losing focus as his hands became slightly aggressive. I struggled to stifle my cry when he inserted his fingers inside me. His thumb circled my clit with expert rotation, making me desperate for more. He pushed my legs farther apart, pulling me higher onto his lap. I felt his erection immediately. The voice in the back of my head questioned if he would demand sex while the two guards were in the front seats. There were times I didn't know what to expect from him, when his face gave nothing away. He was a master manipulator, and I knew his game quite well. It was something I'd learned after being with him for so many years. He would wine and dine you, get you comfortable and trusting him, only to unexpectedly strike you later.
His breath tickled my ear as he brought me near my peak, only to leave me desperately waiting, unsatisfied. He pulled his hand away, bringing his fingers to his mouth. I quivered as he sucked them slowly. I tried to calm my breathing as he put my dress back in place. The act left me confused. I could tell his conversation was ending by the tone of his voice—frustration mixed with a rewarding satisfaction. His voice was everything but friendly when he ended the call.
"I guess that will have to do for now," he said.
I sucked in a breath when I felt his arms wrap around my midsection. He nuzzled my neck, and I automatically leaned into him. I noticed we were getting close to home. The private gate of our suburban mansion opened, letting the SUV inside.
"I sometimes forget how beautiful my wife is," he continued, nipping my ear. The sensation was only making the abandonment of my orgasm worse. "I also forget how clever she can be."