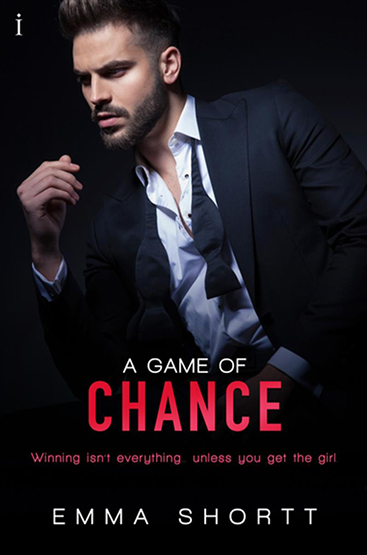 A Game of Chance
by Emma Shortt
October 8, 2018
Amazon
| 
Kobo
| 
iTunes
| 
B&N
Jack Richards made his first million when he was a nerdy teen. Now, he stays out of the limelight by using an alias, Jack Chance. As CEO of a billion-dollar tech company, Jack thought he had everything he wanted. Until she came storming into his office. With her electric blue hair and voluptuous curves, Meg Marlowe's a video game fantasy come to life.
Computer genius Meg is convinced that X-Tech has stolen her work and she breaks into its headquarters to confront her idol, billionaire Jack Richards. Who she finds instead, is Jack Chance—all bulging muscles and hard planes, he couldn't be further from the nerd CEO she expected. A misconception that Jack is happy to go along with.
Their attraction is instant, sizzling, electric…and Meg feels like she knows this guy, though she's only just met him. But all is not what it seems at X-Tech and that, coupled with Jack's lie, sends their red-hot relationship, and possibly his company, into a wormhole of doom. But in the game of love, he plays to win.
I received this book for free from in exchange for an honest review. This does not affect my opinion of the book or the content of my review.
REVIEW
This is my first read by author, Emma Shortt, but I have to say that the blurb completely took me in and I just had to get my hands on it.
I was absolutely and pleasantly captivated right from the beginning. Meg thinks this huge tech company, X-Tech, has stolen her work and she is on a mission to talk to the CEO and get down to the bottom of who stole her work and why.
Meg is a spunky and smart heroine that I could not get enough of. Jack was definitely a complex character with many dimensions to him. When they first meet you could already feel the chemistry between the two of them coming off the pages! I couldn't wait to see how everything was going to play out!
It was a consuming page turner that I just couldn't put down!