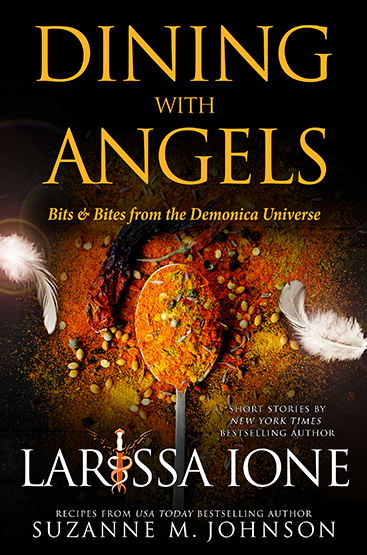 Dining with Angels: Bits & Bites from the Demonica Universe
by Larissa Ione, Suzanne M. Johnson
November 6, 2018
Amazon
| 
Kobo
| 
iTunes
| 
B&N

In a world where humans and supernatural beings coexist — not always peacefully — three things can bring everyone to the table: Love, a mutual enemy, and, of course, food.
With seven brand new stories from the Demonica universe, New York Times bestselling author Larissa Ione has the love and enemies covered, while celebrity Southern food expert Suzanne M. Johnson brings delicious food to the party.
And who doesn't love a party? (Harvester rolls her eyes and raises her hand, but we know she's lying.)
Join Ares and Cara as they celebrate a new addition to their family. See what Reaver and Harvester are doing to "spice" things up. Find out what trouble Reseph might have gotten himself into with Jillian. You'll love reading about the further adventures of Wraith and Serena, Declan and Suzanne, and Shade and Runa, and you're not going to want to miss the sit down with Eidolon and Tayla.
So pour a glass of the Grim Reaper's finest wine and settle in for slices of life from your favorite characters and the recipes that bring them together. Whether you're dining with angels, drinking with demons, or hanging with humans, you'll find the perfect heavenly bits and sinful bites to suit the occasion.
Happy reading and happy eating!
I received this book for free from in exchange for an honest review. This does not affect my opinion of the book or the content of my review.
REVIEW
I was very excited to get this review opportunity, mainly because I love to cook! I love trying new recipes and seeing how it will all turn out! This past week I tried two of the recipes in
Dining with Angels
and had an absolute blast doing so. Not only did it help me make meal plans for this week but it was a chance to change things up a little!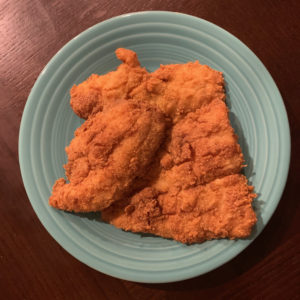 Fried Catfish
1 cup sour cream
1/4 cup Cajun seasoning
2 cups whole milk
10-12 catfish fillets
2 cups flour
Oil for frying
1 cup cornmeal
Combine sour cream and milk in a mixing bowl. In a separate bowl, mix together the flour, cornmeal, and Cajun seasoning. In a Dutch over or deep fryer, bring oil to 350 degrees. Dredge each piece of fish in the wet mixture and then in the dry mixture. Please 1-2 pieces of fish in the oil and fry for about 4-6 minutes until done. Repeat with remaining fish. Drain on paper towels.
Holy crap!! This recipe was AMAZING!! Absolutely incredible! I normally just go to the store and buy Louisiana Fish Fry and use that to make my fried catfish with. THIS WAS SO MUCH BETTER! Even my husband loved it and he is not a big fish eater. Now, I was not going to be feeding enough people to make 10-12 fillets for, so just I halved the recipe and it worked just great! I used my deep fryer and cooked 2 fillets at a time and set a timer for 6 minutes each time.
Seriously can not stress how awesome this recipe was. Total game charger for me! No more Louisiana Fish Fry, that's for sure!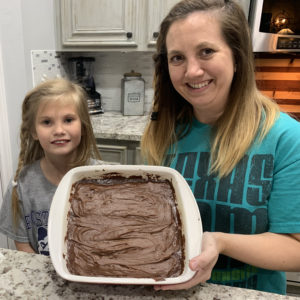 Dark Chocolate Chipotle Brownies
1/2 cup butter, melted
1/2 cup all-purpose flour
1 cup sugar
1/4 teaspoon baking powder
2 eggs
1/2 teaspoon cinnamon
1 teaspoon vanilla
1/3 cup cocoa powder
1 teaspoon chipotle powder
Preheat oven to 350. Grease an 8 x 8-inch pan. Combine butter, sugar, eggs and vanilla in a large bowl. Add in cocoa powder, flour, baking powder, cinnamon and chipotle powder. Pour and spread into greased pan. Bake for 25 minutes. Let cool for 10 minutes then cover with frosting.
Chocolate Icing
1/2 (1 stick) butter or margarine, softened
2/3 cup cocoa powder
3 cups confectioners' sugar
1/3 cup milk
1 teaspoon vanilla extract
Melt butter. Stir in cocoa. Add powdered sugar, milk and vanilla. Mix well until smooth. And a small amount of additional milk, if needed.
My daughter, Caitlyn, and I decided to make the Dark Chocolate Brownies together and has a blast doing so. After a long week it was nice to have some nice fun quality time together. After we put the brownies in the oven, we made the frosting and of course we had to lick our fingers to make sure it tasted good. 😉 And it totally did! The frosting was addictive! We let the brownies cool for about 15 minutes, so we gave it a few extra minutes longer then what the instructions called for. The first taste of the brownies was totally delicious but it was the after taste that caught the chipotle and made me think we should have used 1/2 a teaspoon instead of a whole teaspoon. It was a pretty strong after taste. Over all, it was pretty good, but next time I am going to adjust how much chipotle I put in.