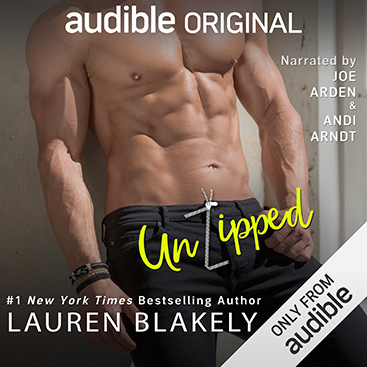 Unzipped
by Lauren Blakely
Narrator:
Joe Arden, Andi Arndt
October 30, 2018
Format:
Audiobook
Amazon
| 
Kobo
| 
iTunes
| 
B&N

Wanted: Dating coach to help hot nerd win back the woman of his dreams…
Picture this – I'm ready to win back the love of my life, and I'm going big this time. We're talking boom box, sing her name in the rain, let the whole damn neighborhood know I'm good and ready this time around. After all, if you're going to grand gesture the ever-loving hell out of a second chance, you need to pull out all the stops.
There's only one little problem.
My college girlfriend isn't the one who shows up when I play my "I'll do anything to win you back" tune.
The woman who flings open the second-floor window tells me my ex doesn't live here anymore. But she'll help me win her back. Anything for romance, anything for a guy so willing to go big for love. And that's what I want at first. Until I get to know my new "romance coach" and discover she's funny, clever, and keeps me on my toes. And boy, do I ever need that.
Now I don't want to win anyone else's heart. I want the woman who's been helping me all along.
Trouble is – she thinks I'm in love with someone else, and when we take off on a road trip, everything I think I know about women is about to be unzipped and turned inside out.
REVIEW
There are no words to describe my love for Lauren Blakely and her words. To be able to listen to those words while I'm driving to and from work (and maybe while at work) is my idea of paradise. I love all of her stories, but I have to tell you that her characters Tom and Finley in
Unzipped
are fighting their way to the top of my favorites of Lauren's. Right off the bat you can feel the chemistry between the characters and the ridiculous banter between them is addicting!
First of all – I'm a totally 80's baby and if you are too, then Tom is the perfect hero for both of us. His grand plan to win the girl back is based off 80's movies, standing outside the window with a boombox horribly serenading her.
Oh my heart. <3
Finley is his perfect match. She decides to help him by teaching him how to really win over the girl and uses it as inspiration for her sitcom that she's writing. Only how long do you think she'll last trying to help him without wishing it was her that he was fighting for? Well… spoiler alert: not long. ????
Now if you've read any of Lauren's book, you and I both know she knows how to write some really hot scenes. No need to fret… Unzipped has a couple of hot scenes that had me blushing sitting on the beltway and checking to see if anyone in the cars next to me could hear.
I just could not wait to get into my car each day to continue listening to this story! Only took my 3 days but in those 3 days I had the best drives to and from work. I didn't even mind sitting in traffic.