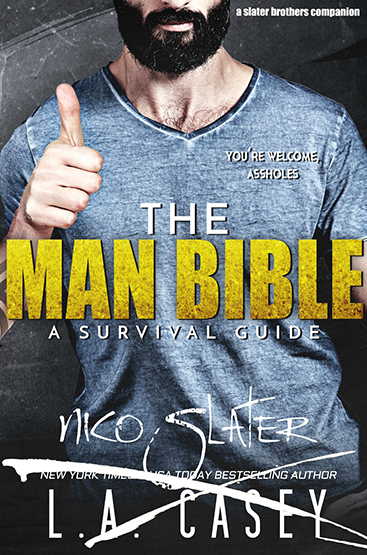 The Man Bible: A Survival Guide
by L.A. Casey
Series:
Slater Brothers #6.5
December 4, 2018
Amazon
| 
Kobo
| 
iTunes
| 
B&N

Do you know what you've got in your hands?
A little piece of fucking treasure, that's what. I've taken initiative here and have turned my trusty Man Bible into an actual survival guide, because the loot between these pages will lead to each of you having happy, stress free lives with your women.
Pick this gem up, put your big boy pants on, and start reading. Trust me, you won't regret it. I present to you, The Man Bible: A Survival Guide ... you're fucking welcome.
By Nico Slater
ALSO AVAILABLE IN THE SLATER BROTHERS SERIES