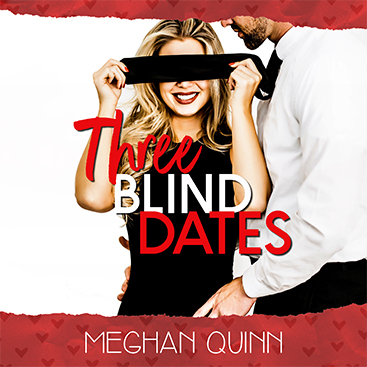 Three Blind Dates
by Meghan Quinn
Series:
Dating by Numbers #1
Narrator:
Ava Erickson, Aiden Snow
April 26, 2018
Format:
Audiobook
Kindle
| 
Kobo
| 
iTunes
| 
B&N
| 
Audible

A modern day take on You've Got Mail with a twist. This laugh out loud and heartwarming romantic comedy from bestselling author Meghan Quinn will keep you on the edge of your feet as you fall in love with each and every blind date.
"Good Morning Malibu, it's another beautiful day on the west coast! I'm Noely Clark, your host: and I'm in the market for love…"
When the publicity team of the new local restaurant, Going in Blind, began their search for a hot, local celebrity to promote the wildly popular eatery, they couldn't have found a better person than me.
Outgoing? Check.
Single? Check.
Open to finding love? Check.
I signed up immediately.
A hopeless romantic with an exceedingly demanding schedule, I've found it impossible to find the man of my dreams—so Going in Blind seems too good to be true! That's until they start setting me up on dates—three very different, very attractive, very distinct blind dates—and only one thing is for certain . . .
I'm in big trouble.
"Good Morning Malibu,
I'm Noely Clark, and I have a choice to make.
The question is who will I choose; the suit, the rebel, or the jock."
*** This is a full length novel , 115,000 words, with a happily ever after, no cliffhanger, no cheating, and full of heart, humor and, steamy heat. ***
REVIEW
This is my first read from Meghan Quinn. Or I guess I could say, first listen. I've always heard good things about Meghan Quinn and she's been on my TBR list for forever, but it wasn't until now that I have had the opportunity to dive into one of her stories.
And I'm so glad I took the plunge!
Right away this story caught my interest. It's not your typical heroine meets hero and heroine and you go on their journey of happily ever after. Nope, we get to meet three guys as our heroine, Noely, takes on her adventures into blind dating.
Now, I have to be honest, I fell for ALL THREE GUYS! I loved them all. I think my heart broke just as much as Noely's when one of the guys didn't end up working out.
All three of them were charming and definitely swoony in their own right, while they all had vastly different personalities. Which is something I want to give Meghan Quinn props for. Each character had his own unique voice. I didn't feel like I was reading the same guy three times. I felt a connection to each one of them.
Was there a favorite? Sure. I had my hopes set on the guy who she did ultimately ended up with. And I loved the way he eventually captured her heart. It was very fitting to the story and would have absolutely won me over!
Good news? I looked and found out that the two guys who our Noely didn't end up with do get their own happily ever afters in the next books in the series. So guess what is next on my TBR? Two Wedding Crashers, that's what!
If you have not read (or listened to) this book. Please make sure you've watched the movie You've Got Mail before you do. You'll thank me later. 😉