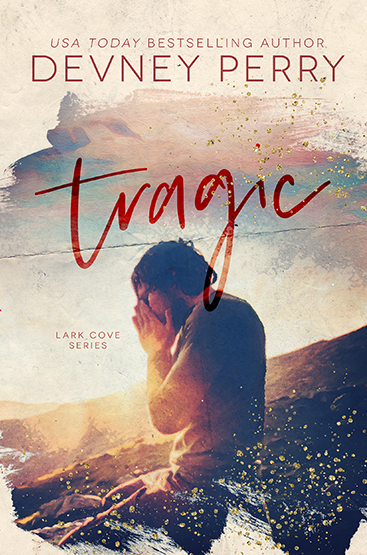 Tragic
by Devney Perry
Series:
Lark Cove #3
November 13, 2018
Amazon
| 
Kobo
| 
iTunes
| 
B&N

Kaine Reynolds wants nothing more than solitude. After an unthinkable tragedy destroys his family, he's cut off all ties to his former life so he can battle his grief the only way he knows how.
Alone.
So when Piper Campbell knocks on his door, rambling on about being his new neighbor, he slams the door in her face.
But Kaine's gruff demeanor doesn't scare her. She's set on living in Montana and starting over after a terrible divorce. And she wouldn't mind having a fling to chase away the pain of her husband's betrayal. Her handsome, albeit rude, neighbor is the perfect candidate.
Yet what neither of them suspect is that their no-strings affair will result in the surprise of Piper's lifetime—and Kaine's worst fear.
REVIEW
I have to say that I have become obsessed with anything Devney Perry! Devney has an amazing talent for really taking you on an epic journey in each of her books.
Tragic
is absolutely no different. It took me in right from the beginning and kept hold of me until the very end.
While we continue to learn the details throughout the book, we start off by learning the fact that our hero, Kane, has experienced unbearable lose. He has run away from his past because it's understandably too hard for him to deal with that kind of pain and grief.
Our heroine, Piper, on the other hand is battling with finding her self-worth after her divorce. She is also running away but it's more to find peace that she may not be able to have the life she always wanted and dreamed of.
What I love most about this story is that it's not about one person saving the other, but it's more of the fact that the love that grows between the two of them helps them save themselves.
Honestly, you can't go wrong with picking up a Devney Perry book to get lost in.
Tragic is the third book in the Lark Cove series. Normally I highly recommend you start reading at the beginning of a series, but I am actually pretty comfortable saying that you can read this without having read the previous books in the series. It can absolutely be read as a stand-alone. Now that doesn't mean I don't recommend reading the previous books in the series, BECAUSE I DO! They're amazing as well!