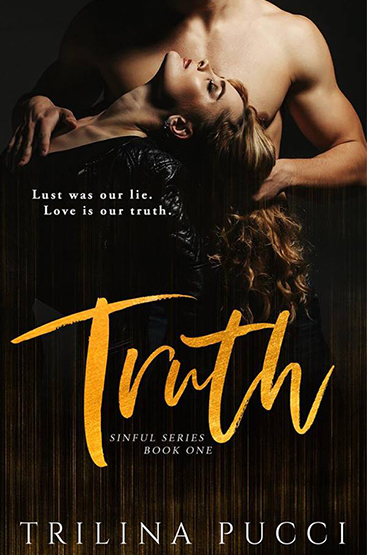 Truth
by Trilina Pucci
Series:
Sinful #1
October 30, 2018
Amazon
| 
iTunes

Fiesty Drew Matthews is at the top of her career but when she meets a charming stranger, Nick, and finds herself embroiled in a relationship that's chipping away pieces of her heart. Finding the strength to walk away has never felt so impossible until she walks into King's hedonistic Church.
Dominic King is a dominant alpha that knows what he wants when he sees it. What starts out as a one-night-stand becomes a desire to possess her whole. He knows the power she holds within and refuses to let her accept her own doubts. He's met his queen and will stop at nothing to devour her body and keep her by his side... and in his bed.
But when she walks away, after their one night--choosing herself over any man he swears to never forgive her but fate has a funny way of bringing people back together. She'll break him down and he may forgive her but not before he makes her beg.
Walking away from Nick was easy, staying away from Dominic proves to be impossible.
Will their lust become the lie, so that love becomes their truth?
This fast-paced dark romance will hold you hostage and keep you spellbound as it explores the idea that a wrong choice can give way to taboo desires and be the catalyst in finding your soulmate.
Now I'll make her beg me for more.
REVIEW
Truth
by Trilina Pucci was seriously a bit of an emotional rollercoaster. This was my first time reading this author, but it won't be my last!
Truth
is only the first book in a new series based on the seven deadly sins.
Let's start with this question: Do you believe in love at first sight? This is a question I kept asking myself repeatedly while reading Truth and while I'm not sure that I do, Trilina Pucci sure does a good job of making me want to believe that it can happen! She made me believe these characters knew that they were meant for one another as soon as they meet!
Our heroine, Drew, meets our hero, Dom, at what could only be described as the worst time possible! They agree to 24 hours together and while both of them know they want more from the other, the timing of everything couldn't be worse.
Now, say you meet the person you know you are meant for and then things end beyond badly. How can you move past that for a second chance? More importantly, what depths would you go to to get that second chance?
This book will take your emotions all over the place! Just when I thought everything was going one way – BAM – nope, here comes a heart-wrenching twist to knock me sideways!
This was a sinfully and deliciously addicting read. You will not be able to put this book down until you reach the end!