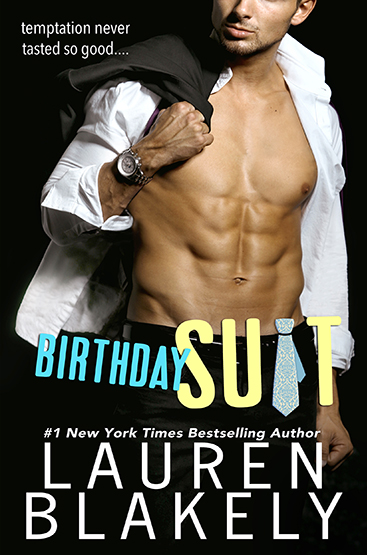 Birthday Suit
by Lauren Blakely
January 17, 2019
Amazon
| 
Kobo
| 
iTunes
| 
B&N
| 
Audible

She's the ultimate off-limits woman...
There are only three rules in life you should truly follow to the letter.
One: Always make time to help a buddy.
Two: Definitely turn down that last tequila shot.
And three: Absolutely, no matter how beautiful, smart, clever and witty she is, do not--under any circumstances--fall in love with your best friend's woman.
Oops.
Seems I missed following that last one. And the trouble is, she just walked back into my life in a big way….
Pass the tequila.
***
There are three things I've never been able to resist -- my friends, my family, and chocolate. Leo Hennessy? He was nowhere on that list. He's been a friend and only that. A friend who walked through hell and back with me.
Now, I'm stepping into my new future, and I didn't expect it to include a riddle-filled, race-against-the-clock scavenger hunt across New York City.
With Leo.
Suddenly, I'm looking at this man with new eyes...
But I can't risk a temptation as I start over and Leo is most definitely a temptation of the sexiest, sweetest, and most dangerous variety.
More delicious than chocolate...
EXCERPT
I take a moment to add up the facts, only the facts.
Lulu is here.
She's living in New York.
I'm living in New York.
I'm about to add in one more fact, but I can't in good conscience go there.
Besides, my heart is pounding too fast.
It's from the incident, I tell myself.
It's from the adrenaline rush.
It's not from feelings.
I don't feel a thing.
I leave the men's room, take a drink from the water fountain, and wipe my hand across my mouth.
When I look up, she's there.
With outstretched arms, she spins in a circle, waiting for an appraisal of her new outfit.
Her new, jaw-dropping, sexy-as-sin, might-as-well-throw-in-the-towel-and-raise-the-white-flag-of-surrender outfit.
What the hell was I thinking?
I clearly wasn't using my brain at all. Because she's even more alluring in this garb.
She's only wearing the chef jacket and heels.
"Are you…?" I gesture to the outfit, the end of my words making my meaning clear? Are you naked under that?
She rolls her eyes. "Please. I have on my alpaca panties."
"Alpaca panties?"
Her eyes twinkle. "I couldn't resist. There was a sale on cute animal print undies with faces, you know, right here." She gestures to her pelvis. "A six pack of giraffes, zebras, dolphins, and llamas too." She casts her eyes down. "Wait. I have on the llama ones. I always get them confused."
"Alpacas have shorter ears. Llama ears are banana length."
She snaps her fingers. "Yes. Exactly. I'm wearing the big-eared animal undies, so it's totally fine."
Great. Now I'm thinking of her in underwear. In fucking llama underwear. Precisely the visual I've assembled way too many times without help, thank you very much. Minus the llamas, of course.
She tugs at the hem of the jacket, revealing the bare flesh of her thigh.
"Lulu." It comes out like a warning.
She laughs at me. "Relax. I'm tiny; this jacket is huge. It's like a short dress on me."
"A very short dress."
"I can handle a short dress. I've worn shorter."
"Shorter as in ass-cheek length, Lulu?"
Her eyebrows wiggle. Her eyes—green and not so green—sparkle. "Yes. I've worn ass-cheek length, Leo. But I'm still decent. And you're still my hero."
She leans closer, rises on tippy toes, and moves her lips close, closer, closest. She dusts those lips across my cheek, and it's like she's an arsonist.
In one swift move, I'm on fire.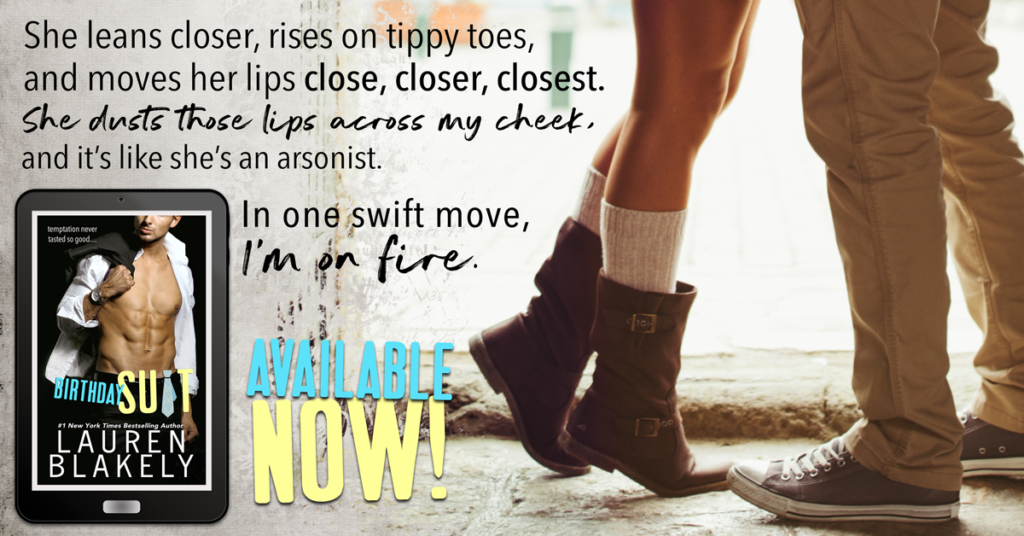 ✮✮✮A Fabulous Birthday Present for You! ✮✮✮
Let's celebrate the release of BIRTHDAY SUIT with the cupcake of the month club from Wicked Good Cupcakes and a Subscription to Audible all wrapped up in a Michael Kors Handbag ($500 value)!