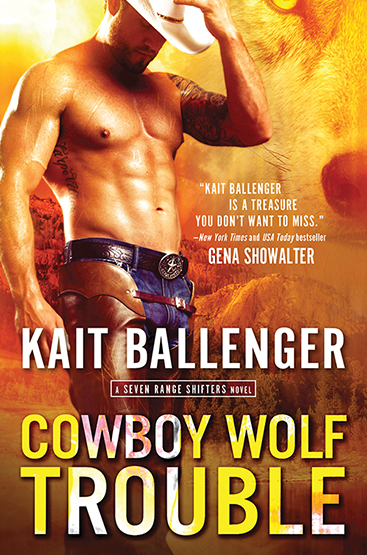 Cowboy Wolf Trouble
by Kait Ballenger
Series:
Seven Range Shifters #1
January 1, 2019
Amazon
| 
Kobo
| 
iTunes
| 
B&N

Seven shifter clans call the Montana mountains home.
But a new evil will stop at nothing to tear their world apart.
For centuries, the shifters that roam Big Sky country have honored a pact to keep the peace. Even bad-boy rancher Wes Calhoun, former leader of a renegade pack, has given up his violent ways and sworn loyalty to the Grey Wolves. But his dark past keeps catching up with him...
Human rancher Naomi Evans cares only about saving the ranch that was her father's legacy. Until a clash with Wes opens up a whole new world—a supernatural world on the verge of war—and Naomi, her ranch, and the sexy cowboy wolf stealing her heart are smack dab in the middle of it.
I received this book for free from in exchange for an honest review. This does not affect my opinion of the book or the content of my review.
REVIEW
What a trill ride! I'm a sucker for cowboys and a huge sucker for shifters. What could better than a hero who was both? I couldn't have resisted the book if I tried.
I also love tough as nails heroines who can put their men in their place and Naomi as absolutely my kind of heroine. She inherits her dad's farm after he passes and is struggling not only with her grief but with keeping the ranch alive when she wakes up to find a wolf in a trap on her land. Only it's not just a wolf, it's a shifter.
Wes is trying to find his road to redemption for his past when he gets stuck in a trap on Naomi's land. The chemistry between the characters is right there form the beginning even with both of them fighting it.
What drew me in even more to the book was how Kait Ballenger made even the animals in the book characters in their own right. If you pick up this book for no other reason, please pick it up for the humorous interactions with Black Jack, Wes' (somewhat) horse.
There were some points of the book that may have dragged a little but pushing through those was well worth it in the end and I hope the series continues!
EXCERPT
Naomi came to on a jolt of energy and fear. Dreaming. She had been dreaming. Closing her eyes again, she slowed her breathing. A gentle sway moved beneath her as she lay on her stomach, her spine curved in an upside-down U. Where the hell was she? Her head throbbed and her thoughts somehow felt fuzzy. Was she on a horse? The oily scent of coat polish permeated her nose, and from the gentle sway it certainly felt like it. But she didn't trust her disoriented head. Hadn't she been at home just moments ago? As she attempted to push herself up, a soft tug pulled at her wrists. She shifted until her wrists were in front of her face. Loosely tied rope wrapped around her wrists. Panic flooded her. She scrambled in an attempt to sit up. Immediately, she slipped from where she'd been perched and her back hit the cold mountain ground with a hard thud.
A nearby male voice cursed.
The moon above bathed the normally pitch-black forest in pale moonlight. A horse's hooves leading up into thick muscled legs stood less than a foot away from her; its coat was as dark as the night sky. Equus ferus caballus. A black American mustang, a typically free-roaming species. She scrambled to sitting despite the ache in her shoulders from the fall. It took her all of two seconds to ascertain she'd been riding passed out on the back of the horse. And this horse was decidedly not free-roaming.
She didn't think. Jumping to her feet, Naomi darted into the trees. She had to escape. Had to get back to her ranch. Her feet flew over the hard mountain terrain as she ran downhill. Ten yards in a rock caught the toe of her boot and she toppled into the dried autumn leaves. She started to scramble to her feet again.
And that's when she saw him, looming in front of her. Her captor.
He sat on the back of the dark horse, hands clutched in the beast's mane, those same yellow wolf eyes narrowed in her direction. Thankfully, he was clothed now.
He rode before her as a man. But his eyes told the true story.
"Werewolf," the word fell from her lips.
"Glad we've gotten that out of the way," he said.
She jumped at the deep rumble of his voice. His voice was human, but those dangerous yellow eyes…
He dismounted the horse, and her eyes widened as she took in the full sight of him. Mangy blond hair brushed beneath his chin, wild and unkempt. He stood unnaturally still, wolf eyes ablaze through the darkness. Harsh, brutal features comprised his face. Jagged cheekbones, a bladed nose, an angry slash of a mouth, and a strong jaw lined with a thin layer of coarse blond stubble clenched tight. He watched her with relentless intent. Violent battle scars marred the skin of his chest, highlighting the bloody wound at his shoulder from where her shot grazed him, and the deep slashes of the now removed wolf trap in his forearm only served to make him appear all the deadlier.
Wild, fierce, virile.
Dangerous.
In her work as a biologist, she had developed a brief, flirting fascination with large apex predators. After she'd finished her degree, she'd accepted a brief summer internship at a large cat rescue in northern Florida, where she'd worked with the rehabilitated predators up close. She'd been captivated with the languid way they moved, their ability to become so still in anticipation before they struck or lunged at lesser prey, a trait common among predators across varying species. Being so close to such strength and power had filled her with both excitement and fear. She remembered once observing a cougar crouch in anticipation of a live rabbit that had been released into its cage. The intense, deadly look in its eyes had both thrilled her and terrified her. Making her want to draw closer while also being thankful a cage had stood between them.
She had no such protection now.
It was the cold, ferocious intent in his golden wolf eyes that paralyzed her, that held her captive. Even in this form, he was lethal, standing well-over six feet, his body unforgiving muscle and sinew that moved with predatory fluidness.
Few would have called him handsome. Terrifying seemed more accurate, yet she couldn't pull her gaze away. She didn't want to.
He wore nothing but a pair of loose jeans covered with riding chaps. The combination hung low enough on his hips to serve as a reminder there was nothing underneath. Her eyes followed the trail of blond hair on his muscled abdomen. The material covering him seemed so precariously perched there, that it sent a wave of embarrassed heat straight to her cheeks.
Slowly, she shifted her legs underneath herself until she crouched over the tree roots. Though she naturally loved the outdoors, having grown up on a ranch, she'd never been a very fast runner. But she had to fight, had to try. She knew these mountains. She could find her way to her ranch, even in the dark. Right? He took one step toward her, and even that small movement was predatory, not fully human.
And she was his prey.
GIVEAWAY
a Rafflecopter giveaway