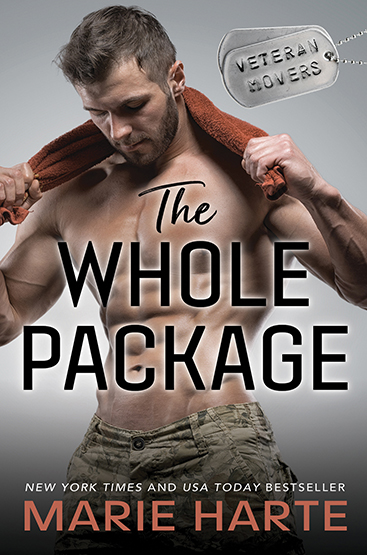 The Whole Package
by Marie Harte
Series:
Movin' On #1
January 29, 2019
Amazon
| 
iTunes
| 
B&N
| 
BAM

Always the caretaker, former Marine Reid Griffith wants to help his brother adjust to civilian life...and help other former servicemen. What better way to utilize their brawn, discipline, and charm than a moving company that hires veterans? But although Reid prides himself on being strategic, he certainly doesn't plan to fall in the spotlight of one brilliant—and beautiful—PR whiz...
PR expert Naomi Starr is determined to bring Vets on the Go! into the spotlight. But when she meets Reid, it might mean breaking her rule to never mix business with pleasure. Especially once she discovers that underneath Reid's sexy rough-and-tumble exterior is a vulnerable man who just might need what she's got to give.
I received this book for free from in exchange for an honest review. This does not affect my opinion of the book or the content of my review.
REVIEW
What could be better than hearing that Marie Hart has a new series coming? I was so beyond excited to learn she was starting another series! I have been sucked into many of her previous series and the characters she has created in the past that I could not WAIT to get my greedy hands on the start of another one.
The Movin' On series centers around a moving company, Vet on the Go!, owned by two brothers who are veterans and they only hire other veterans to work for their moving company. The Whole Package is Reid and Naomi's story. Reid is the younger one of the brothers who own the moving company. Naomi is a PR expert who sees Reid's older brother on the news and decides their moving company is a perfect opportunity to help get her own PR business off the ground.
Both Naomi and Reid are career driven and extremely busy trying to make their own businesses successful. But as you can imagine, sparks instantly fly between Naomi and Reid and keeping things only professional doesn't last very long. 😉
What I love most about Marie Hart is that she not only gets you invested in the two main characters, but she also gets you invested in all the side characters too. I'm completely sucked into this world she has created with Movin' On that I'm sitting on the edge of my seat waiting for the next book, Smooth Moves already!