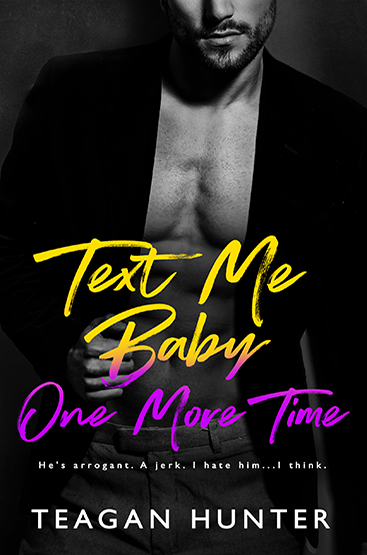 Text Me Baby One More Time
by Teagan Hunter
Series:
Texting #4
February 11, 2019
Amazon
I love you, he said.
Forever, he said.
Turns out, he lied.
When he leaves me high and dry after a cross-country move, I push him out of my life as much as I can, which is hard to do when the guy who broke your heart also happens to be the most famous dude in town.
After a disastrous year, he's aiming to rehab his reputation, and I just so happen to be aiming for a promotion at the paper.
So, we strike a deal, and it's a win-win all around.
Besides, what's the harm in a few dates to charity galas anyway?
He's arrogant, a total jerk. There's no way I'll fall for him…again.
I used to love him. Now I hate him…I think.
EXCERPT
Cinnamon. He smells like cinnamon. I fucking love cinnamon.
"It's my gum," he says, and I realize I've said it out loud.
Shit.
I don't realize he's reached out to me until his fingertips graze softly over my exposed hip, the touch causing me to jump.
"Does it hurt?"
"Huh?"
"The bruise—does it hurt? I saw you hit your hip on the corner of your desk when you attacked me."
I glance down at where his fingers are resting against my skin, and for the first time, I notice there's a purple mark forming.
He's right, I did hit my hip, but I was so caught up in the moment that I didn't care. Then during the hour-long car ride here, I was so focused on trying not to stare at him in his insanely hot baseball cap that I stared at my phone the whole time and forgot my hip was throbbing.
"I forgot about it. I didn't realize it was starting to bruise."
"You'll have to save this dress for one of our later events so it can heal."
I find his gaze again and turn my face toward his. He's no longer staring at my hip. His swirling green and brown eyes are locked onto my own.
"You look beautiful, Denver."
There's something in the way he says it, something that grabs at my heart and tugs on the strings. I don't know if it's the way he uses my full name—something he hardly ever does—or if it's the fire in his eyes that's sending his words straight into my chest.
"I…"
My lips are his sole focus now.
I could recite the phone book for him and I don't think he'd ever look away.
Worse? I don't think I'd want him to.
"How'd you know?"
"What?"
"How'd you know this dress was going to be the one?"
With reluctance, he draws his eyes up to mine.
"If you think for a second that while you spent the last five years hating me, I've been blind to your body…" His hand trails down my hip, dipping way too close to my ass.
God do I hate that I want him to keep going.
"To these curves…" He moves his touch upward, his fingertips teasing me at the base of my back. "To your sheer fucking beauty…"
Light, feathery touches dance up my spine. Goose bumps break out along my skin, though I don't think he notices.
I don't realize he's inched me closer to him with each dance of anticipation along my body until I feel his arousal pressed against my thigh.
His fingers curl around my neck, the touch hard and soft and everything I never knew I wanted, particularly from him.
"I'm not blind, especially when it comes to you, Bucky."
I watch as his mouth descends toward mine, and I do nothing to stop him.
"Oh, miss! That one is stunning ! The young man has a good eye. He—"
The saleswoman pops up out of nowhere just before our mouths make contact.
Thank god.
"Oh my, I am so sorry. I didn't mean to interrupt, Mr. Clark. I-I—"
Shep pulls away, unwinding his arm from around my back, and I miss his warmth more than I've ever missed anything in my entire life.
I take three healthy steps away from him, smoothing down the front of my unwrinkled dress, and try to get my breathing back to normal, refusing to look over at him for fear I'll try to climb my way back into his arms.
Treacherous body.