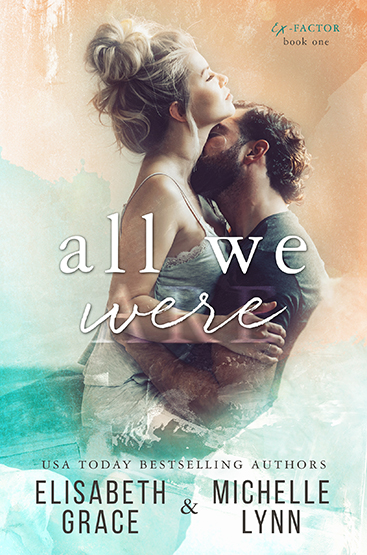 All We Were
by Elisabeth Grace, Michelle Lynn
Series:
Ex-Factor #1
February 28, 2019
Amazon

Will I ever stop hurting the one person who's never hurt me?
I've done things I can never undo.
No matter how much I wish I could, sometimes the wounds I inflict are too deep, too catastrophic, too septic to heal.
As I look into the eyes of the only man I've ever loved I know I've gone too far. I've finally crossed the line.
Even if he knew my reason for doing this, he'd never forgive me.
He always puts my needs before his own.
Now it's my turn to protect him.
None of that matters though because the betrayal and disgust in his eyes comes from deep within his soul. There's no coming back from this.
He will forever be tormented by what he's seen, and he will never forgive me.
The last fragment of my heart to hold out hope that we'd share a future, withers and dies.
I received this book for free from in exchange for an honest review. This does not affect my opinion of the book or the content of my review.
REVIEW
Why…. why…. Why?!?!
Why did I do this to myself?! I know better. I really really do. I know myself better than this. I mean if there is anything I have learned about myself – since I started reviewing books over 6 years ago – it's this: I CAN NOT HANDLE CLIFF HANGERS WHEN THE NEXT BOOK IS NOT READILY AVAILABLE TO ME!
Therefore, if you are like myself and can not handle being left on the edge of your seat as you will not be able to know what happens immediately – you need to wait for the conclusion of this duet, All We Are to be released at the end of April before diving in my friend.
Because that is exactly what happens at the end of All We Were. You are left on the edge of your m*ther f***ing seat.
That being said. I know All We Are will be completely worth the wait because I was totally blown away reading All We Were.
As someone who has had family members suffer from alcoholism and drug addiction I thought this story started out beautifully. And because this story is a duel point-of-view, I was (admittedly) a little worried that some of the dynamics from addition might not get portrayed as well. But I truly thought that both sides (being the one suffering from addiction and being the loved one of the person suffering from addiction) were both very true to form and realistically told.
Lilah (our heroine) and Jimmy (our hero) grew up together, both enduring very traumatic childhoods, and then later moved out to Hollywood to make names for themselves while trying to bury their demons from the past. Only Lilah buries her past and problems with drugs and alcohol.
The story starts up where Lilah is in depths of her addiction and we go on the journey of Jimmy continually trying to save her from herself. And as I said – this story really portrayed addiction and the way it can affect not only the person in addiction but those who love them absolutely brilliantly!!
Hands down a top pick for 2019 already!