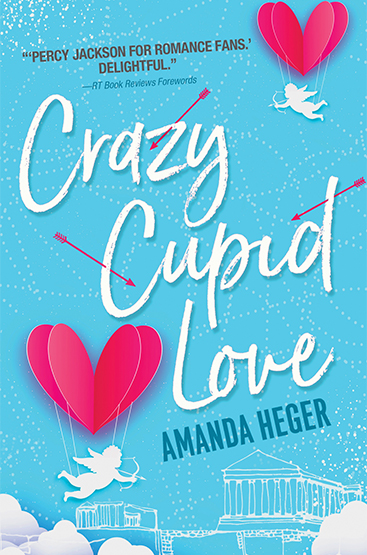 Crazy Cupid Love
by Amanda Heger
Series:
Let's Get Mythical #1
January 29, 2019
Amazon
| 
Kobo
| 
iTunes
| 
B&N

When a single arrow inspires romance, can you really trust happily ever after? In this magical rom-com, the descendants of Greek mythology must learn to live and love in a mundane world where Aphrodite's blessing can sure feel like a real pain in the quiver.
Eliza Herman (a.k.a. The World's Worst Cupid) has spent her entire life carefully avoiding her calling as a Descendant of Eros. After all, happily-ever-afters are nothing but a myth. But when a family crisis requires her to fill in at the local Cupid-for-hire shop, Eliza finds herself enchanting couples under the watchful eye of her assigned mentor, Jake Sanders…the one man she could never get out of her head.
Before long, Eliza is rethinking her stance on romance—until things start going terribly wrong with her enchantments. Now Eliza and Jake must fight to unravel a conspiracy that could destroy thousands of relationships, including their own…and spell the end of Love itself.
No pressure, right?
I received this book for free from in exchange for an honest review. This does not affect my opinion of the book or the content of my review.
REVIEW
I hope I can put into words with this review how much I thoroughly enjoyed
Crazy Cupid Love
by Amanda Heger!
I didn't really know what to expect going into Crazy Cupid Love, as this was a new author for me. I had read the synopsis and thought it sounded cutesy and hoped for an enjoyable light read. However – let me tell you – this book was so beyond anything I could have hoped for!
It was not only cutesy and fun but it was outrageously laugh-out-loud hilarious! A book that can literally make me almost pee in my pants (several times) is rare but absolutely becomes a beloved gem that I always remember to come back and do a re-read when I need a pick-me-up.
The situations our heroine, Eliza, gets herself into are out of this world and so hysterical. After giving up on being a cupid (you'll have to read the book to get the full picture of what being a cupid entails) at a very young age and naming herself "World's Worst Cupid ™", she suddenly finds herself being thrown into trying to help save her family's cupid business with the help of her childhood crush, Jake, our hero.
Not only was it rich in comedy but it also had heart. The story line between Eliza and Jake was delicious and captivating. I'm so glad Amanda Heger offers us a little bit of Jake's point-of-view so that we can get the full effect of all the heartwarming romance between the two characters.
The story, the characters, the whole thing – ABSOLUTELY AMAZING! Crazy Cupid Love was so incredibly well written that I can not WAIT for another book from Amanda Heger!
EXCERPT
Thursday nights at the Agora were an even madder house than the grocery store on a Monday. A few months ago, Eliza would have pulled into the crowded parking lot and pulled right back out. But now she had a license. She belonged.
She handed the ever-present and ever-grumpy Mrs. Washmoore her fancy new ID and stepped inside with Jake beside her. They passed the Poseidon fountain and veered left, beyond a storefront advertising BOGO Ambrosia and a series of Cosmic Council offices.
Room 301: Cosmic Council Conference Room
Room 302: Records, Permits, and Descendant Benefits
Room 303: Circuit Fury
Between the rooms, bulletin boards full of community announcements proclaimed that local elections were on the horizon. "Look." Eliza pointed to the sign. "The deadline for submitting your name is next week."
Jake didn't quite meet her eye. "Yeah. I'll have to look into it."
"What do you mean, 'look into it'?" Eliza laughed. "You have to follow your dumb idea. That's our thing."
He wrapped an arm around her shoulders and tugged her down the hall. Gods, he made every part of her tingle. "Noted. Now, can we please get to Dionysus before my stomach digests itself? I was too nervous to eat this morning."
Her stomach rumbled at the mention of food. "What did you have to be nervous about? All you had to do was sign your name."
"Are you kidding me? Do you know how tough it is to sign all those Department forms? I thought my hand was going to fall off by the time I'd certified that you were fit for duty as a Cupid."
"Well, I appreciate all your hard work."
"I'm glad to hear it." He pulled her a little closer, enough for his hip to settle into the space at her waist as they approached Dionysus. Faint hints of techno music escaped into the empty hall outside the bar. It was dark enough to make her bold, but light enough to tell they were the only two around.
Eliza stopped walking and faced him. "Jake?"
"Yeah?"
Gods, she had a hundred things she wanted to say to him. He'd ruined her for anyone else. He'd made her believe in herself again. He'd made her believe in Love— if only temporarily. But with just a few hours of enchantment remaining, Eliza couldn't say any of those. Once midnight struck, things would change, and she didn't want him to feel beholden to her. Like he'd need to let her down easily or try to keep from breaking her heart. It was going to break anyway, so she might as well save him the trouble of knowing about it.
"Thank you for everything," she said. "I mean it."
He stood close enough for her to feel the breath hitch in his chest. "My pleasure." The corners of his eyes crinkled, like he was about to say something very important and maybe even a little naughty when—
"Welcome to Dionysus! Thursday night is Nereid Night, and we've got the best specials to celebrate." The piercing voice sliced through their moment. It belonged to the tall, thin Dionysian who'd poked his head out into the hallway. "Right this way."
He led them through a maze of chairs and bodies to a table right up against a floor-to–ceiling fish tank—or rather, Nereid tank. Inside, starfish and coral sat at the bottom, while a stunning sea nymph rode through the blue- green waves on the back of a turtle.
"So, this is the famous Nereid Night?" Eliza asked Jake.
"It is. Things get rowdy after midnight, but before that, it's not too bad."
"By not too bad, I assume you mean the beautiful, bikini- clad nymphs floating around?"
Jake leaned forward and brushed her hair out of her face. His thumb lingered against her cheek, and the gold in his eyes flickered in the dim light of the bar. "Eliza," he said. "Does it look like I care about the bikini- clad nymphs right now?"
"Not really." Every part of her wanted to climb in his lap and bury herself in his arms. Maybe this once—now that he wasn't her mentor, and the Department didn't seem to care about her sex life (or lack thereof)— she could give in a little. Enjoy the long glances and soft touches while she still could. She leaned closer to Jake. "Do you want—"
Knock, knock, knock.
Eliza jerked out of her chair, nearly knocking her head on the tank. The Nereid inside smiled and waved brightly, as if she'd been newly crowned Miss Greek Universe. And with that cascading black hair and teal shell top that barely covered any of her brown skin, she looked like she could be a contestant. She also looked like—
"Quinn?" Eliza said.
The Nereid swam to the top of the tank and hung over the edge. Saltwater droplets splattered on the table, and the scent of sea and sand permeated the air. "Hey, you! Long time, no see. When you first sat down I thought, That girl reminds me of Eliza Herman. But then you didn't knock anything over, so I figured I had it all wrong. But then I heard you talk and I knew— Delta Iota Kappa for life! How are you?"
Eliza looked back and forth between Jake— who had a very amused look on his face— and Quinn, the sorority sister from her college days. "Pretty great, actually."
Quinn wrung out the ends of her long hair and flipped it over one shoulder. "Same. Ever since this place started Nereid Night, I've been so busy. The tips here are great."
"You two were in a sorority together?" Jake asked.
"Like any of us can go to college and not go Greek," Quinn said.