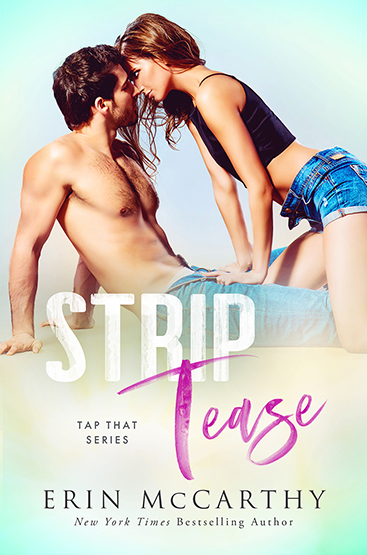 Strip Tease
by Erin McCarthy
Series:
Tap That #3
January 28, 2019
Amazon
| 
Kobo
| 
iTunes
| 
B&N

A sexy CEO.
A single mom.
And a secret baby who is now eight years old…
A tipsy night in college resulted in Grace's greatest joy--her daughter.
But now she sees the guy who gave her a fake name and number that night is stripping for a charity event without a care in the world.
When the feisty brunette confronts Brandon, finding out he has a daughter rocks his playboy world.
Grace wants answers.
Brandon wants Grace.
And Fallon wants a dad.
Is the ultimate party guy ready to strip it all bare...including his heart?
I received this book for free from in exchange for an honest review. This does not affect my opinion of the book or the content of my review.
REVIEW
Strip Tease
is the third stand-alone book in the
Tap That
series and have I mentioned how much I have become obsessed I am with Erin McCarthy's new series
Tap That
? I have been devouring these books and
Strip Tease
was no different! Who doesn't love a good secret baby book?
Strip Tease starts us with the 3rd annual Tap That Strip Show. Grace see a video of the previous year's show and recognizes one of the strippers to be none other than the guy she spent a night with her freshman year in college. The guy who got her pregnant but left her a fake name and phone number.
Can you imagine being Brandon and having a one night stand track you down 9 years later to tell you that you are the biological parent of their child? I didn't know how Erin McCarthy was going to play out Brandon's character with it not starting off so well for him, but I was blown away with how she developed both Brandon and Grace's characters as well as their story.
I will say, Strip Tease felt a little more fast-paced than the others. It was definitely an amazing and heartwarming quick read that I was able to enjoy in one sitting. I also missed the other characters in the series a little bit. I didn't feel like all of the characters were as involved in this book as they had been in the previous two.
Overall, you can not go wrong with picking up any of the books in the Tap That series! HIGHLY ENJOYABLE READS!
EXCERPT
"So what do we do to make it less weird?" Grace walked like her daughter, hands in her pockets. Only with Grace, it was sensual. She moved with inherent femininity and a sort of sly shyness.
She was beautiful, but it was more than that. Grace was an amazing combination of strength and vulnerability, bold and shy.
Have sex again , was his first instant response to her question. But he knew that would only complicate the shit out of things. At the same time, though, it would make them more comfortable around each other.
It would be better than this hands-off politeness.
It was very tempting.
It took everything he had not to say something flirtatious. He damn near bit his own tongue off restraining himself. "You tell me. You're the brains of this operation. I'm the beauty."
"Just grab your rod," she said, looking equal parts annoyed and bemused.
Brandon raised his eyebrows, waiting for her to realize what she had said.
"Oh, my God, stop it!" She laughed though and it was a big, beautiful, genuine laugh. "What, are you twelve?"
"Definitely not twelve. Or even twenty-one. I know what I'm doing now."
Her cheeks turned pink. "I think you did okay at twenty-one. I didn't have any complaints until morning."
Brandon felt two things simultaneously-deep, male satisfaction and sincere regret.
What could have become of him and Grace if he hadn't been a fucking idiot?
And what could they be now? Polite strangers? Friends? Or something more?
But before he could express that thought Grace jogged after Fallon, her hair bouncing down her back. She caught up with her daughter. Their daughter. She slipped her hand into Fallon's and Brandon realized with the utter certainty of the Titanic that his life as a playboy was sinking.
Hell, sunk.
Everything was different now. Everything.