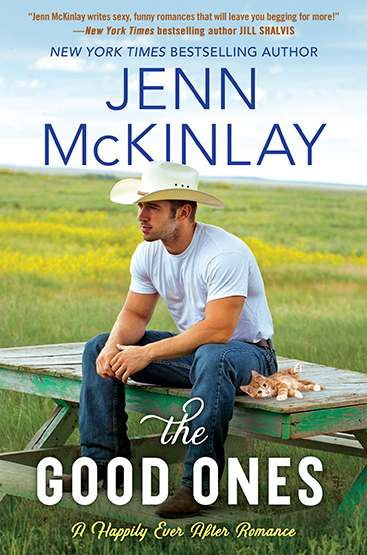 The Good Ones
by Jenn McKinlay
Series:
Happily Ever After #1
February 5, 2019
Amazon
| 
Kobo
| 
iTunes
| 
B&N
| 
BAM

A romance bookstore owner finds her own happily ever after with a single dad in a new romance series from the New York Times bestselling author of Every Dog Has His Day.
Ryder Copeland is an accomplished architect and one heck of a father...not to mention tall and sexy. He's everything a hero should be, and Lord knows, Maisy Kelly has read enough of her great-aunt Eloise's romance novels to recognize one when she sees one. But like all fairy tales, Maisy can't help but wonder if this Prince Charming is too good to be true...
Ryder is drawn to the shy, curly haired professor who hires him to convert the Victorian house she's inherited from her aunt into a romance bookstore. Attracted to a woman for the first time since his divorce, Ryder finds himself wishing for a future with Maisy that he knows is impossible. Ryder has never wavered from his plan to leave the small town of Fairdale, North Carolina, so he can give his daughter the life she deserves. But suddenly he's not so sure. And the closer he gets to Maisy, the harder it's going to be to walk away...
I received this book for free from in exchange for an honest review. This does not affect my opinion of the book or the content of my review.
REVIEW
Wouldn't it be the ultimate dream in life for any romance reader to be able to own your own romance book store? Or even to inherit a house full to the brim in every room of romance books? I mean – I don't even know how I would be able to deal with such amazingness but that's exactly what happens to our heroine, Maisy, in
The Good Ones
.
Maisy just inherited her great-aunt Eloise's old historic house that has every room in it lined to the top with romance novels. So she decides to turn it into a romance book store. She hires our hero, Ryder, an architect, to head up the project. And isn't Ryder just the picture perfect ideal of what every leading hero in a romance novel is suppose to be?
Not only did The Good Ones make me daydream of changing careers and wishing I could be Maisy, but it gave a super heartwarming romance story between Maisy and Ryder. Along with Maisy and Ryder, there is a bunch of other hilarious characters in The Good Ones.
This book absolutely gave me all the feels with not only the relationship between Maisy and Ryder, but with Ryder and his daughter, Perry.
I can not wait to visit all of these characters again (hopefully soon) when the next book in the series comes out!
INTERVIEW
First off, can you tell us a little bit about yourself?
I am an animal loving, recovering librarian with a dessert problem, who writes romance and mystery. I am also happily married to a cute musician husband with whom I have two awesome teen boys. And we all live in the "frat house" which is overrun with animals, guitars, and books.
Can you tell us something that not a lot of people know about you?
I was once an extra on a TV pilot for a police procedural called Mohoney, starring Peter Strauss. I learned that extra work is very boring – eighteen hour long day of super boring, in fact – but the caterers were super cool.
Where did the idea for The Good Ones come from?
I was sitting at my kitchen table, noodling around story ideas when the idea of a bookstore popped into my head and then because the book was going to be a romance, I thought it just had to be a romance bookstore because there aren't enough go those. In fact, The Ripped Bodice in California is the only romance specific bookstore I'd ever heard of, so of course I had to mention them in the book.
Can you give us a little insight to the characters in The Good Ones?
Maisy Kelly is an unlucky in love college English professor, who inherits her Aunt Eloise's house, which is packed to the rafters with romance novels. Ryder Copeland is the architect she hires to covert the house into a bookstore. He is a single dad, looking to move on from the small town in North Carolina, but Maisy, who is a big believer in happily ever after, causes him to rethink his plan.
When you create your characters do you ever put bits of either your personality or bits of personalities from people close to you?
Not intentionally, unless it's one of my mysteries and then the murder victim usually has some traits of people I don't like. Otherwise, I like to sit back and see what my characters call forth on their own. Mostly, I feel like I'm just the conduit.
Tell us a little about your writing process. Any pre-writing rituals or routines?
Coffee. Lots of coffee. Mostly, it's a matter of trying to get into the zone, which can be tricky when life offers so many distractions. I've found that doodling helps. I plot while I doodle. Also, staying off the Internet is key.
What are some good books you've read lately?
Just plowed through the Bridgerton Series. No idea how I missed it until now. Also, I am reading 99 Percent Mine, When Dimple Met Rishi, and In a Dark, Dark Wood.
If you could collaborate with another author in writing a book, who would it be?
Wow. That is really hard. I'm not sure that I'd be a very good collaborator (read control freak) but I'd love to hang out and talk shop with writers like Jayne Anne Krentz and Nora Roberts, to name just two of the many, many authors I'd like to meet.
THANK YOU, JENN MCKINLAY!