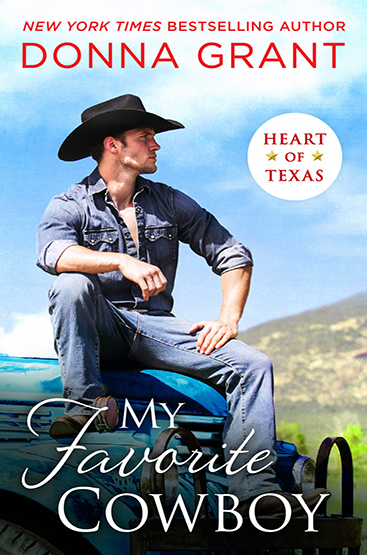 My Favorite Cowboy
by Donna Grant
Series:
Heart of Texas #3
February 26, 2019
Amazon
| 
Kobo
| 
iTunes
| 
B&N
| 
BAM

Audrey Martinez is a veterinarian who has devoted her whole life to the care and protection of horses—even if doing so leaves her little time for meeting a man. Who would have thought that a strange case of criminal horseplay would lead her to falling deeply, wildly in love? If only the man who makes her heart race faster than a wild mustang would let his guard down, that is. . .
Caleb Harper is no ordinary cowboy. Sure, he wears his hat, boots, and jeans like a second skin, and displays an easygoing charm that comes from years of working on the ranch. But with his military background, and Army buddies at his side, he is tried-and-true Texas tough. Audrey knows she can trust a man like Caleb to help her save horses. But can Caleb trust himself to resist his attraction to Audrey—or will the sparks of their desire end up getting them burned?
I received this book for free from in exchange for an honest review. This does not affect my opinion of the book or the content of my review.
REVIEW
I surely love me some Texas cowboys. I can not tell you why but for some reason I have been on a huge cowboy binge lately. There is just something about a good-hearted and hard-working man who knows how treat his woman that just gets to me. And let me tell you, if cowboys are your thing – Donna Grant knows how to deliver and you need to look no further than the
Heart of Texas
series.
If you've read the previous books, then you've already met Caleb. If you haven't – that's ok too – My Favorite Cowboy can absolutely be read as a standalone. However, you would be missing out on some of the family dynamics that come into play for our hero, Caleb. You'll also might get a better understanding for Caleb's character as well if you read at least Cowboy, Cross My Heart before diving into My Favorite Cowboy.
Now I was already in love with Caleb going into My Favorite Cowboy, but I was immediately captivated by Audrey as well. I love strong independent heroines who are tough as nails and can handle anything that is thrown at them. But they're also ok to let their guy take care of them too.
I love a book with a little bit of suspense to it as well. Someone is poisoning horses and it out to frame Audrey, a vet, for it. This is how Audrey meets Caleb as he, his brother and the rest of their crew set out to help Audrey and the horses.
The instant connection between the characters hooks you right in and I was sitting at the edge of my seat as to what was going to happen next!