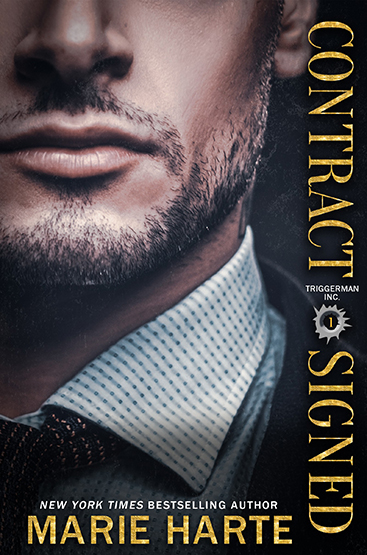 Contact Signed
by Marie Harte
Series:
Triggerman Inc. #1
March 13, 2019
Amazon
| 
Kobo
| 
iTunes
| 
B&N

Don't miss the first in this sexy, fast-paced romantic suspense series--TRIGGERMAN INC.--from New York Times bestseller Marie Harte.
Three assassins and a... baby?
Noel "Ice" Cavanaugh's method is foolproof. Get in, do the job, get out, melt away without a trace. Neat. Tidy. No mistakes.
This time, though, something isn't right. Two somethings. First, a random attack that feels not-so-random. Then he discovers a baby on his doorstep with a note claiming it's his. Unfortunately, the sexy neighbor who found the boy first has too many questions in her eyes to ignore.
When her handsome, mysterious neighbor suddenly asks her out on a date, Adeline Rose has suspicions he's fishing for help with his bundle of...joy? By the date's end, she's convinced Noel's just as distant as he seems--until a scorching goodnight kiss burns away all thoughts of being careful.
Now Noel has more than one problem on his hands. Splitting baby duty between three badass assassins, figuring out how to fit in more time with Addy...and keeping both of them safe from the danger that's followed him home.
This book has been previously released.
Warning: Beware a killer with a heart of gold, a baby who needs constant changing, and unrequited love that's actually quite...requited.
EXCERPT
Jesus. Not only did the woman turn him on just by breathing, she could bake too. The cookies Hammer and Deacon were wolfing down smelled delicious. But not as good as her.
"Save me a few," he ordered, unable to look away from a blushing Addy.
"You can let me go now, Noel. I'm not going to fall."
Deacon snickered. Hammer cleared his throat.
Much as he didn't want to, Noel released his hold on her narrow waist. "Sure." He didn't step back, though.
She did. "Ah, I should go."
"Not yet." Noel felt frustrated. He'd been doing his best to get along with Thing 1 and Thing 2, but the idiots weren't helping. Neither guy would admit to being the baby's father, though they acknowledged what a great time they'd had in Mexico. The DNA results they'd sent in to a special lab would take a few weeks. Until then, he refused to let the guys go home.
The baby was not his problem alone. The dirty diapers, the feedings, the constant crying—they were annoying but bearable. The kid's adorable smiles and laughter, admittedly, warmed that coldness inside him without even trying.
The two assassins crowding his private space, invading the schedules and normalcy of his home, however, gave him constant headaches. He'd ached to shoot at least one of them ten times a day, and they'd only arrived forty-eight hours ago.
He wouldn't have minded Addy dropping by before now, and that surprised him. He'd actually wanted to go next door several times over the past few days, to see her pretty eyes and watch her smile. Silly, but the baby was making him feel more human than he liked to admit.
At least with Hammer and Deacon in residence, he wouldn't be stuck playing babysitter forever. No matter how cute the kid was, a baby wouldn't fit Noel's lifestyle. Nor would a sexy, innocent neighbor who was looking way too good in that sweater and jeans.
Remember, Noel, she's too good for you. Way out of your league.
"Hey, Addy, how'd you like to grab some dinner sometime?" Deacon asked out of the blue.
Noel should have poisoned the playboy years ago. He glared, his control once again shot to hell. "She can't."
"I can't?" Addy sounded confused.
"She's got a date with me later."
"I do?"
He nodded and guided her toward the front office, where he pulled them both inside then closed the door. Now standing with her in a smaller space, just the two of them, alone, he felt himself relax.
"Um, Noel? What's going on?"
She didn't appear pleased. Crap. Probably should have asked her out instead of ordering her.
"I was thinking you and I could get dinner tonight, if you're free. I'd like to thank you for being so nice about the baby."
She blinked. "You don't need to take me to dinner for that."
"I'd like to." He'd like to do more than dinner with her, but complications arising from sex wouldn't work in his favor. Still, even knowing that, he couldn't stop thinking about how he'd take her.
She turned pink again. "Well, I don't know…"
"Think of it this way. We've lived next to each other for two years and I know next to nothing about you." A lie. He knew everything about her…on paper, at least. And that was part of what scared him, his fascination for a woman with a background and lifestyle so different from his own.
"Whose fault is that?" she retorted, surprising him with a bit of backbone. "I've tried to be friendly."
Addy had always seemed so pleasant, even a bit meek around him. He liked her sudden bite. A lot. "My fault entirely," he admitted. "I'm always traveling, and when I get home, I'm so tired I'm normally not at my best."
She bit her lower lip, and he swallowed a groan. "You are pretty crabby. But it doesn't help that I probably seem pushy. It's just that we're neighbors, and I was hoping we could be friends. But Noel, we don't need to go to dinner if you don't want to. I swear the cookies was the last time I planned to bug you. I really did just want to see the baby."
She was giving him an out. An easy way to avoid her. Yet he kept seeing Deacon flirting with her in his mind's eye. "No, really. I've wanted to ask you out for a while, but since I'm always gone, I didn't want to seem friendly then aloof when I left again."
"So why the change now?"
Yeah, why? "Because I might be sticking around longer." A truth he hadn't wanted to admit, even to himself. The job was wearing on him. He found himself wanting to extend his stays at home more often than not.
"Oh." She gave him a tentative smile. "Okay then. When did you want to go out?"
"How about tonight? Six-thirty? I'll come over to your place and we can take my car into town."
"Sure." She smiled wider. "I'd better go. See you later." She left before he could add anything.
Always quick on the exit, that woman.
He followed her out into the living room, only to watch the front door close behind her.
"So," Deacon said.
"So," Hammer repeated. "She's got great…cookies."
"I'm such a fan of her…chips," Deacon added, trying not to laugh.
Noel glared. "You two are about as mature as a couple of fourth graders." Like one of Addy's students. He knew all about his neighbor, including the fact she didn't do subterfuge. Addy was just as she appeared, an elementary school teacher, currently single, no pets. She relied on her friendship with Solene Hansen to fill her lonely nights, when she wasn't having dinner—and nothing else—with Brent Morgan.
That prick.
"What's the deal with the sexy neighbor?" Deacon wanted to know. "You sure as shit didn't want me going out with her. But from what we know, you live like a monk."
"Sad but true." Hammer sighed. "Dude, get a life."
"Firstly, don't call me dude."
Hammer cocked his head. "Firstly?"
"Secondly, I have a life. One devoted to my job, my passion for gardening—"
"Are you thirty or seventy?" Hammer guffawed. "Gardening? Like shoveling dirt over potatoes or dead bodies?" He laughed harder at his own joke. "The bodies I understand. I—"
"Gardening," Noel reiterated, doing his best not to grab the Jericho hidden under the back of his sweater and shoot Hammer with it, "and—"
"Nights filled with research on your lovely single neighbor. Don't ask." Deacon held off the obvious question. "I hacked your computer. You are seriously stalking that woman, Noel."