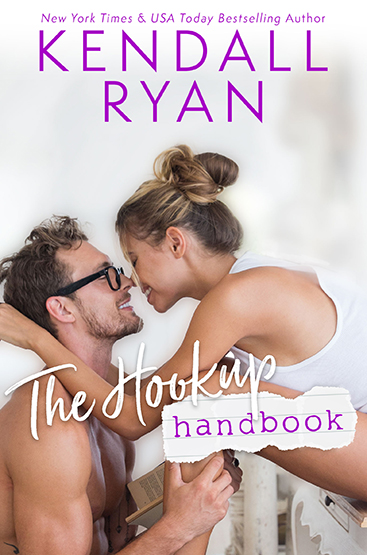 The Hookup Handbook
by Kendall Ryan
March 19, 2019
Amazon
| 
Kobo
| 
iTunes
| 
B&N

My love wand is on a strike.
As bad as that blows, pun unintended, it's ten times worse for me. I'm a male escort, but not just any escort, I'm the escort. The one with a mile-long waiting list and a pristine reputation that's very well-deserved.
Only now, I'm on hiatus. Because after years of pleasing women all over the city, my man missile decides to get finicky. And the only woman he wants? Someone I can never have—my best friend's younger sister, the nerdy and awkwardly adorable Sienna.
She's working at the agency this summer, keeping me organized, handling paperwork, and most importantly, keeping me on track to finish writing my book about sex and intimacy, which is due to my publisher in thirty days.
She thinks I hate her, that I don't want her here. The truth is much more twisted. I get hard every time she walks into my office. Her wide blue eyes and pouty mouth drive me wild with desire, and if she stays, I'm not sure how much longer I can stay away from her.
Little Miss Overachiever says she's here to help? Fine. I'm going to put her nerdy, curvy tush to work.
I received this book for free from in exchange for an honest review. This does not affect my opinion of the book or the content of my review.
REVIEW
Well. Kendall Ryan has done it again. And when I say done it again, I mean she wrote a book that I could not put down until I reached the very end. Including the epilogue.
Now, no need to worry. I had this planned out.
See, I've been reading Kendall Ryan books for years and I obviously know myself only too well, so I've learned my lesson a time or two. I knew that there was a good chance that once I started in on The Hookup Handbook that I would not be coming up until I reached the HEA. I knew that unless someone was bleeding (which is always a possibility in my house) nothing was going to pull me away from my kindle.
So I read it over the weekend when I knew I would not kill myself by staying up late into the wee hours of the morning reading.
I encourage all of you readers to take similar precautions. I really do. You will not be able to stop reading once you start The Hookup Handbook.
Sienna is everything we love in a heroine. She's sassy, smart, and likes to be independent. Case is the total swoony hero. The way he protects Sienna and cares for her while trying to make her happy.
Sienna's brother, Ryder, hooks her up with a job helping Case over the Summer. There's instant chemistry between the characters that completely sizzles the pages! And what do you think is going to happen when Sienna is helping Case write a book on how to pleasure a woman?
The Hookup Handbook is a deliciously sweet read that gave me all the feels in Kendall Ryan's unique way!
Now some of you might be wondering if you didn't read Boyfriend for Hire will you be lost reading The Hookup Handbook. The answer is absolutely not. This is a complete stand alone and Nic and Elle (hero and heroine from Boyfriend for Hire) only make a brief appearance. While I strongly encourage reading Boyfriend for Hire, you won't be missing anything out The Hookup Handbook if you haven't.
In all the years I've been reading books by Kendall Ryan (and trust me, I've been following her since the beginning), she has never once disappointed me! Not one time. If there is anything to say about Kendall Ryan's writing career at all, it's only that if you start at the beginning and work your way through her catalog, you will see her growth as a writer. Which is part of what keeps me coming back. You know – along with her steamy stories and heros to boot. 😉