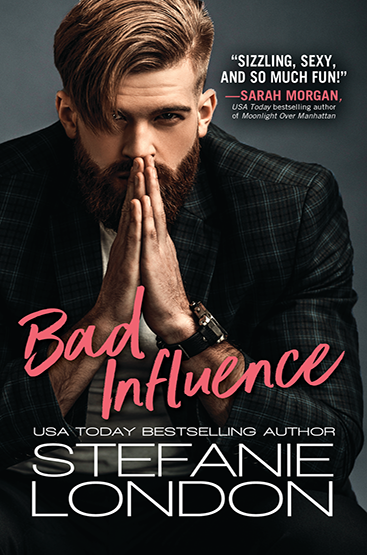 Bad Influence
by Stefanie London
Series:
Bad Bachelors #3
February 26, 2019
Amazon
| 
Kobo
| 
iTunes
| 
B&N

Annie Maxwell created the Bad Bachelors app to warn women away from guys like Joe Preston. Too bad she won't take her own advice...
Annie had her whole life figured out...until her fiancé left her when his career took off. If that wasn't bad enough, every society blog posted pictures of him escorting a woman wearing her wedding ring. To help the women of New York avoid men like her ex, she created the Bad Bachelors app.
Outside his stellar career, CEO Joe Preston has made a lot of mistakes. None was worse than leaving the love of his life when she needed him most. Now, he's ready for a second chance. He may still be one heck of a bad influence, but when Annie's safety is threatened by a hacker, Joe is the only one who can save her - and he'll do whatever it takes to win her back.
I received this book for free from in exchange for an honest review. This does not affect my opinion of the book or the content of my review.
REVIEW
First of all, let me start by saying that I read the whole
Bad Bachelors
series the whole way through. When I came across
Bad Influence
the first two books in the series,
Bad Bachelor
and
Bad Reputation
were already out so I didn't have to wait on pins and needles for the next book in the series.
I really love that the conclusion to the series, Bad Influence brought the whole storyline back full circle. I would HIGHLY suggest you read the first two books in before diving into this one. At the very least, read Bad Bachelor first because it sets the whole storyline up that follows throughout the whole series. There will be a lot of storyline holes if you don't.
All of that being said – I LOVED THIS SERIES! And I loved Bad Influence! I truly enjoyed Joseph and Annie's story and getting more of the backstory to Bad Bachelors and how everything came to be. Joseph and Annie's story was the perfect way to end it!
Bad Influence was an exceptionally well written second chance romance that really made me pause to think that what I would do if I were in certain situations.
How would I handle being threatened by someone who hacked into my personal computer?
Would I be able to forgive the one person I counted on for leaving me when I needed them the most?
Joseph and Annie's story was heart-warming and gave me all the feels. I worried about Joseph being able to redeem himself and there were times when I didn't know if he was going to be able to pull it off but I was completely satisfied with how everything ended!
EXCERPT
His lips parted hers, his tongue sliding into her mouth as he walked her past the couch toward the huge windows. Even with their eyes closed and hands occupied, they navigated the space with ease. He knew every inch of this place, despite the furnishings being different now. More importantly, he knew that Annie loved nothing more than the cold press of glass against her back.
When they'd walked into the apartment, they hadn't needed the lights. But the sun had sunk low, and the city was starting to shine as darkness settled over them.
Joseph was tightly coiled—the past and present fusing together until it was impossible to untangle them. Annie let out a soft gasp as she bumped against the glass. Planting one hand next to her head, he spread his fingers wide. Rain splattered, coating the outside of the window in glossy droplets.
"You haven't told me to stop," he said.
As much as it would kill him to walk away now, waking up tomorrow and having her regret it would be worse. But for once in his life, he needed to man up and be honest with her. For too long, he'd let his upbringing stifle his ability to communicate. And it had ruined them. Ruined any chance they might've had at happiness. And running hadn't fixed a goddamn thing.
"I don't want you to stop," she said, her hands coming to the hem of her cashmere sweater. The fabric lifted up to reveal her trim waist, then the pale-pink lace of her bra as she whipped the sweater over her head. "Whatever it means to you is your business."
The fabric hit the floor, and her hands automatically went to the fly of her pants.
"I've told you what it means," he replied. The sound of her zipper being undone cut through the air. "And I'm not going to play this game if you think you can shut me out afterward."
Her hips wriggled as she pushed the fabric down her legs. Her dark gaze speared him like a lance to the heart. "You're seriously telling me you'll walk away unless I agree to cuddle afterward?"
"I wasn't thinking about cuddling as much as burying my face between your legs in the middle of the night." He watched as she continued to undress, peeling her pink panties down her legs and then reaching behind her back for the clasp of her bra. The action made her breasts thrust forward. "I want to fall asleep with those perfect breasts pressed against my chest and those legs tangled with mine. I want to wake you up with my lips on your skin, and I want to pull you on top of me while you're still half-asleep."
She stood naked before him, shadows playing off her porcelain skin. But her eyes were the giveaway—the blackness of her pupils eating away the rich brown irises he loved so much. They shimmered, alight with a potent mixture of defiance and excitement.
His hand was still planted next to her head. His body growing hot beneath his suit and coat. The contrast of him being fully dressed next to her nakedness made it feel even more illicit. "I want to hear that sexy, raspy sound you make when my name is the first thing out of your mouth in the morning."
She tipped up her nose to him. "This is just sex. Nothing more."
"Will thinking that help you sleep better at night?"
"Going to bed alone will help me sleep better." Her voice didn't give him an inch.
Joseph leaned in and pressed a kiss to her lips. "Don't let the bed bugs bite then."
He turned and walked through the apartment, stopping to pick up his scarf from the floor. Annie hadn't made a move to get dressed and remained standing, staring him down. Her shapely figure was silhouetted against the Manhattan skyline, and it was possibly the sexiest thing he'd ever seen.
But trying to ignore what he really wanted was what had gotten him in trouble in the first place. She could huff and puff, but he wasn't going to sleep with her if she wanted him to act like it meant nothing. He'd rather go home and take a cold shower.
Or twenty.
At least being at home would prevent him from thinking with his dick in the middle of the night.
"Don't answer the door for anyone but me," he said. "I'll call when I'm on my way over first thing in the morning."
She didn't say a word as he pulled the apartment door open and let it swing shut behind him.