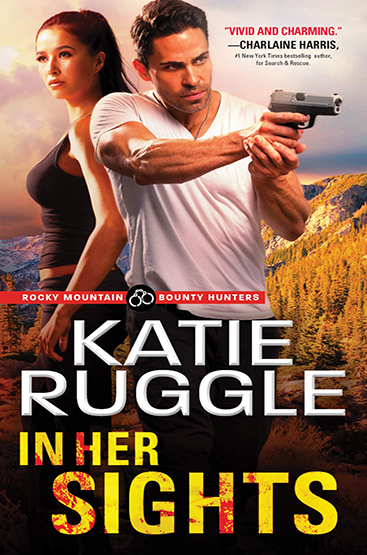 In Her Sights
by Katie Ruggle
Series:
Rocky Mountain Bounty Hunters #1
March 26, 2019
Amazon
| 
Kobo
| 
iTunes
| 
B&N

Five bounty-hunting sisters
Deep in the heart of the Rockies
Fighting to save each other
...and the men who steal their hearts
Bounty hunter Molly Pax fought hard for everything she has, turning the bail recovery business she shares with her sisters into an unqualified success. So when their sticky-fingered mother jumps bail and puts the childhood home up as collateral, Molly's horrified. To make matters worse, every two-bit criminal in the Rockies now sees her family's misfortune as their next big break.
She needs help, stat.
Enter rival bounty hunter John Carmondy: six feet of pure trouble, with a cocky grin to match. John's the most cheerfully, annoyingly gorgeous frenemy Molly's ever had the pleasure of defeating...and he may be her only hope of making it out of this mess alive.
I received this book for free from in exchange for an honest review. This does not affect my opinion of the book or the content of my review.
REVIEW
So
In Her Sights
is my first read from Katie Ruggle, but it will certainly not be my last.
In Her Sights is the start of the Rocky Mountain Bounty Hunters series, which focuses around five bounty hunter sisters. In Her Sights is Molly and John's story.
Now. I'm going to be real honest. I hope this doesn't turn anyone away and I hope no one takes this as a spoiler. But I think I need to warn you, so you're prepared.
THIS IS THE SLOWEST BURN EVVVVEEERRRRR!
Holy crap I never though these two would EVER crave into all the sexual tension that was happening between them!
Now, as this was my first time reading Katie Ruggle I have no idea if she's a sadist and just loves to torture her readers regularly…. Or if she just saved that for In Her Sights. But seriously. No kidding. SLLLLOOWWWWWEESSSTTTTT BURN EVER!
That being said. IT WAS SOOOOOOOOO WORTH IT!!!
Trust me. When Molly and John finally get it together (or well… when Molly finally gets it together…) it is totally worth everything!
I really and truly thought the storytelling and writing were spot on! I could not put this book down. Each sister was well defined and unique. I really can not wait to continue with this series and read each story for these sisters.
What I also loved is that the storyline is going to continue. While each book will be focused on a different sister (I think) they are still going to be dealing with issues that arise in In Her Sights. And I can not wait to see how everything turns out!!!