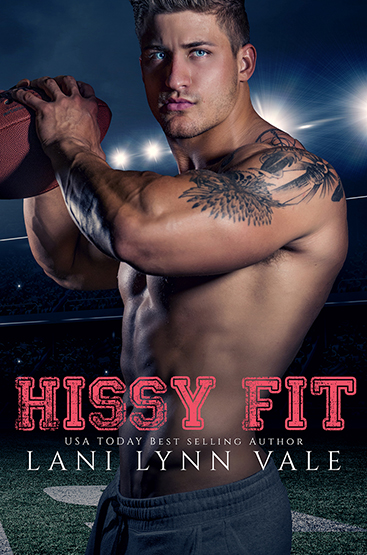 HISSY FIT
by Lani Lynn Vale
Series:
Southern Gentleman #1
March 19, 2019
Amazon
| 
iTunes
| 
B&N

He is the one that never looks her way.
He is handsome and strong.
He is rough around the edges and mean.
He is everything she's ever wanted.
He doesn't even know she exists.
Her life is a joke.
***
She doesn't step on cracks in the sidewalk.
She laughs at inappropriate times.
She talks when she shouldn't.
She is clumsy and trips on air.
She is finally on his radar.
God help her now.
I received this book for free from in exchange for an honest review. This does not affect my opinion of the book or the content of my review.
REVIEW
When I started
Hissy Fit
, I really didn't know what I was getting myself into as this was my first Lani Lynn Vale book. I know, I know. Where have I been? When I looked at her catalog I was blown away by how many books she has released and that fact that I am just now finally getting to read one of her books. It's a mystery how I haven't picked one up before now I tell you, because I was completely blown away with
Hissy Fit
.
I will very soon be 1-clicking some more Lani Lynn Vale books because if Hissy Fit is any indication of what I've been missing out on than I need to start some binge-reading.
Now, I have to say – Raleigh is my favorite kind of heroine! Shes clumsy and gets herself into awkward situations while being totally adorable and lovely! Some might think this is the making of a weak heroine, but that is not the case with Raleigh. I found her to be strong and she definitely knew what she wanted and stood up for herself!
Ezra what absolutely the swoony hero that suited Raleigh perfectly! He was protective and loving and made me completely fall in love with him from the start! He may not have noticed Raleigh when they were younger but once he finally opened his eyes, there was no stopping him!
One of the things I loved about Hissy Fit was that the characters had to deal with a lot of heavy topics and hard situations but it never got too heavy or angsty. Lani Lynn Vale managed to keep Hissy Fit light and fun and never went too dark with the story, where she could have.
If you are looking for a super fun and enjoyable read, I HIGHLY recommend 1-clicking Hissy Fit!