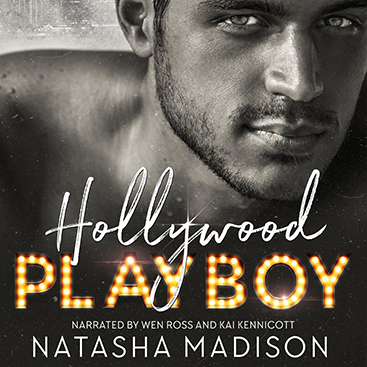 Hollywood Playboy
by Natasha Madison
Series:
Hollywood Royalty #1
Narrator:
Wen Ross, Kai Kennicott
February 2, 2019
Format:
Audiobook
Amazon
| 
Audible

Behind the "lights, camera, action" of Hollywood lies a world of deception, love, and seduction.
Are you ready for Hollywood Royalty?
Jessica
An entertainment journalist was the last thing I thought I would be doing.
I thought once I got my degree, I would be reporting on stories that made a difference, but now all I do is report on who broke up with who and who is dating who.
I was over it.
Then I got my next assignment.
He's Hollywood's bad boy.
He works hard, and he plays even harder.
He's rude, he's condescending, and he's made it known he doesn't want me on the tour.
With one month on the road with him, two things might happen
One, I may never work in this industry again.
Two, I may just be like everyone else and fall for Hollywood's Playboy.
REVIEW
I have to start off this review for
Hollywood Playboy
by putting in bold, italics and underline that
I LOVE THESE NARRATORS
!!
I could not get enough of Kai Kennicott and Wen Ross as Jessica and Tyler! This is my first Natasha Madison book and (I believe) first listen to these narrators! THEY BLEW ME AWAY just as much as the book did!! You know they're awesome narrators when they can pull out all of my emotions and get me to wipe some tears during a scene, that if I'm being honest, I would not have even made me blink at if I was reading the book instead of listening to it.
I didn't really know what to expect going into Hollywood Playboy as this was my first Natasha Madison book, but let me tell you, she may have become one of my must one-click authors.
The story itself was a thrill ride. I mean, who wouldn't dream of being picked to go on 30 day press tour with the hottest Hollywood star?
Well, Jessica, that's who.
Jessica is not thrilled to be stuck interviewing Tyler on his press tour for his new movie for 30 days, and Tyler doesn't want the the entertainment journalist who reports on everything he does getting up in his business for the next 30 day either.
Until he does.
Hollywood Playboy is a sexy, romantic enemies to lovers that you do not want to miss out on!