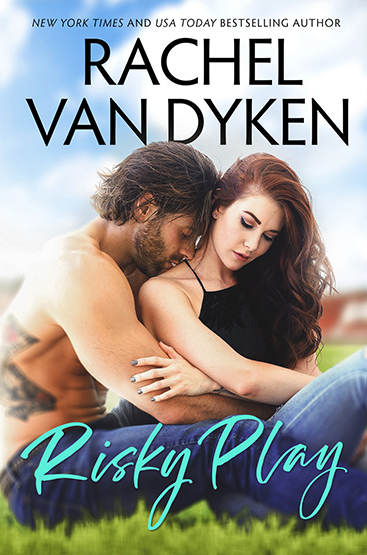 Risky Play
by Rachel Van Dyken
Series:
Red Card #1
March 19, 2019
Amazon

Even one-night stands deserve a second chance in New York Times bestselling author Rachel Van Dyken's novel of sporting desire.
What else can a virgin do when she's ditched at the altar? Seattle heiress Mackenzie Dupont is treating herself to a single-girl honeymoon in Mexico and a desire to relinquish her innocence to a gorgeous one-night stand. Fake names. True pleasure. But when she wakes up alone, Mackenzie realizes just how much anger is left in her broken heart.
Suffering a tragic personal loss, pro soccer player Slade Rodriguez has his reasons for vanishing without a goodbye. Right or wrong, he's blaming the beautiful and infuriating stranger he never wants to see again. They're both in for a shock when Mackenzie shows up as his new personal assistant. And they both have a lot to learn about each other. Because they share more than they could possibly know, including a common enemy who's playing his own games. And he's not afraid to get dirty.
Now there's only one way Mackenzie and Slade can win: to trust in each other and to stop hiding from the lies they've told, the secrets they've kept, the mistakes they've made, and the attraction that still burns between them.
I received this book for free from in exchange for an honest review. This does not affect my opinion of the book or the content of my review.
REVIEW
I don't know how. I don't know why. I have no excuses for myself. None. Nada. However, as much as it might cause shaming of the worst kind, I have to admit to the fact that yes,
Risky Play
was my first time diving into a Rachel Van Dyken book. And honestly, someone needs to throat punch me. I had no idea what I was missing out on!
Risky Play was full of EVERYTHING! It was sweet and swoony and then also angsty and emotional. It pull all the right emotions and gave all the amazing feels we all love when reading a good romance!
Now I have to warn you guys, our swoony hero, Slade, isn't so swoony at times. He starts off as everyone's dream guy, but quickly loses points on the swoon-meter. He ends up needing a lot of redemption (if I'm being honest) and in the end I feel like he pulls it off. So I guess what I'm trying to say is – stick with him my friends. He is worth it but it'll take some patience.
Our heroine, Mackenzie, however is perfectly likable the whole time. She does exactly what I'm asking all of you to do. She sticks with Slade and give him the grace and patience he needs but doesn't necessarily deserve at times. Don't worry though, she can dish it as well as she can take it. She makes sure to put Slade in his place.
Overall I thought this book was a gem. I'm glad I finally got to read a Rachel Van Dyken book and I can not wait to continue on with the series as they become available!