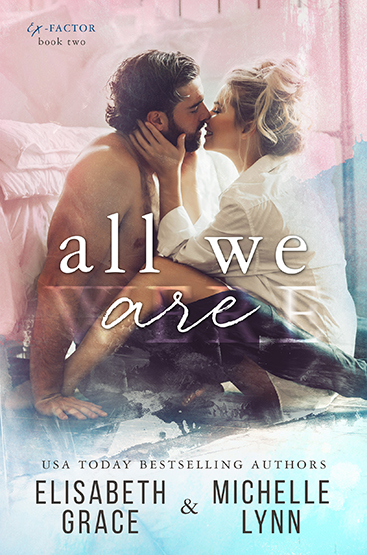 All We Are
by Elisabeth Grace, Michelle Lynn
Series:
Ex-Factor #2
April 25, 2019
Amazon

Coming face-to-face with my past changes EVERYTHING.
I'm at the top of my game. All my struggles have finally paid off. Life should be great.
I mean, life is great.
Except for the fact that I can't stop thinking of her. The woman who mangled my heart into a bloody pulp and never looked back.
If I could free myself of our shared memories, my future would be golden.
There's only one way to move on—I have to confront the past, so I can move into the next chapter of my life in peace. Which means confronting her for the final time.
I had no idea that knocking on her door that day would turn my life upside down.
I received this book for free from in exchange for an honest review. This does not affect my opinion of the book or the content of my review.
REVIEW
Wowza! What a rollercoaster Michelle Lynn and Elizabeth Grace delivered with the
Ex-Factor Duet
!
I really didn't know what I would be getting with All We Are. I was honestly a little scared. All We Were ended with such an emotional and heart-wrenching scene that while I was sitting at the edge of my seat waiting for All We Are to hit my kindle, I was also a little weary as to what the authors were going to do to me this time around!
I am sooooo glad I finished the story! Not only was this an amazing story to get wrapped up in, but All We Are it tapped into such a different set of emotions than the first book. It was literally like day and night. We get hit by a bus in All We Were and then painfully heal from the wounds in All We Are.
And dare I say? The writing was even better in All We Are! Everything flowed just right and while it had a real slow burn, it fit to the characters and the story they had to tell. And while I say the 2 books are day and night, the story still continues to stay true to who the characters were in the first book. I still felt like I was still in the same story.
Absolutely could not pick both of the books down and I've already predicted that Ex-Factor Duet will be one of my top picks of 2019!