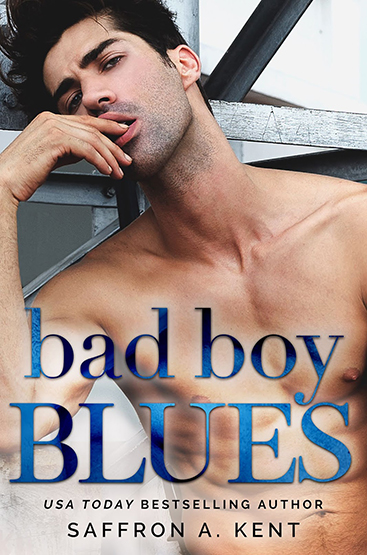 Bad Boy Blues
by Saffron A. Kent
April 11, 2019
Amazon

Cleopatra Paige hates one thing in this world -- just one -- and his name is Zachariah Prince.
In grade school, he pulled at her pigtails. In middle school, he spread false rumors about her. And in high school, he ruined her prom.
She hates that his smirks are unfairly sexy. And she definitely loathes that his dark eyes seem to follow her everywhere. Sometimes, even in her dreams.
It doesn't matter that he's rich and popular or that he lives in a freaking mansion full of butlers and maids. He's rude and arrogant, and she wants to stay as far away from him as possible.
But unfortunately for Cleo, she lives in the same freaking mansion as Zach.
Only he's the prince and she's the lowly maid who serves him.
I received this book for free from in exchange for an honest review. This does not affect my opinion of the book or the content of my review.
REVIEW
Holy smokes – I absolutely did not know what I was getting myself into when I started
Bad Boy Blues
.
This was my first read by Saffron A. Kent but I had been hearing amazing things about her books for a while now, so when the opportunity to review her newest release, Bad Boy Blues, I jumped at the chance.
Let me tell you, this book was ALL THE FEELS! I believe without a doubt that Ms. Saffron A. Kent has a deeply poetic soul and I look forward to diving into her previous releases for this very reason!
The saying goes that there's a thin line between love and hate. And while this particular saying isn't in the book, the draw from that parallel is so evident in so many ways that I just couldn't believe the way she wove it all together!
I also want to note that as someone who lost their parents way too early in their life, that I felt the way that factor was address in the book was SPOT ON. The way heartbreak and grief and how those take root and effect your life were portrayed beautifully. I don't want to give anything but I related hard and also did similar things so it obviously really touched me very personally.
I can already tell Bad Boy Blues is going to be one of my top reads for 2019!