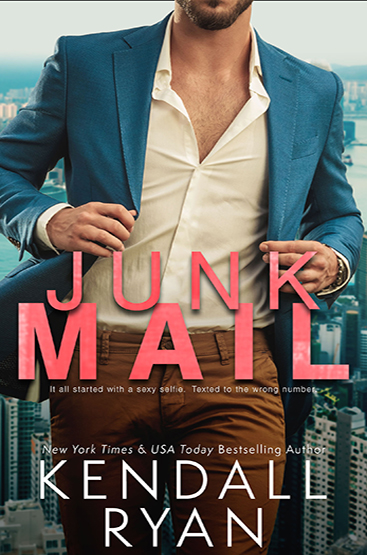 Junk Mail
by Kendall Ryan
April 23, 2019
Amazon
| 
Kobo
| 
iTunes
| 
B&N

It all started with a sexy selfie.
Texted to the wrong number.
Oops.
Not my finest moment—but I have nothing to be ashamed of.
She thought I was no better, and I quote, than the knuckle-dragging douche-bags she was never dating again.
It was a stupid dare from a girl I'd met online, but since she'd given me a fake number, I didn't feel bad that my interests were suddenly focused elsewhere—on the fiery and sharp-tongued, Peyton that I found myself sparring with over text for the rest of the evening.
The following day, my case of mistaken identity came back to bite me in the banana.
When I strolled into the office, I was introduced to Peyton as the new client I needed to win over. The Peyton, in case you're not tracking.
And let's just say she had my full attention.
Brains? Check.
Beauty? Oh yeah.
And the best part? She hated me on sight.
Dear God, do I love a challenge.
Let the games begin.
I received this book for free from in exchange for an honest review. This does not affect my opinion of the book or the content of my review.
REVIEW
Let me start this review by stating that I for one have never been sent a dick pic. Not on purpose nor by accident have I ever received that kind of surprise in my messages. Therefore, it was a little hard for me to put myself in Peyton's shoes when she randomly gets a text she certainly wasn't expecting.
However, Kendall Ryan was able to make something (like getting a dick pic send to you) end up being the start of a really romantic tale. And let me tell you – I don't know many authors who could have pulled it off. But she did. I fell in love with not only Josh and Peyton, but with the story in itself.
For one thing, I adore fantastically witty side characters and Kendall knows how to deliver those. And she absolutely does with Peyton's grandma. If you pick up this book for no other reason – pick it up just to meet Peyton's grandma. Peyton and her grandma share the type of relationship I think we all wish we had with our grandmothers and the dialog with her grandma is spot on hilarious!
Another thing I loved about this story is showing how men can be so dumb sometimes, and how things said and done can be taken very personally to a woman while that wasn't the man's intention.
Overall – Kendall Ryan has never let me down and she nailed it with Junk Mail!